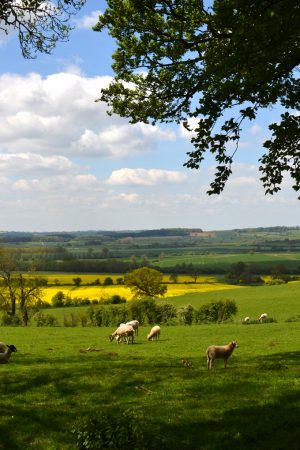 The School is hidden away from the hustle and bustle of the outside world in a village called Pitsford.  We are a rural location, in the beautiful rolling English countryside, just 10 minutes from Princess Diana's ancestral home; and yet only 15 minutes drive from the town.
It's certainly worth looking on Airbnb.co.uk  
Please find below our recommendations for local bed and breakfast accommodation:
For students who do NOT have their own transport
These are the places you can stay that are walkable distances:
In Pitsford village (the same location as the School) is a Charming Cottage available to rent via Airbnb. It sleeps 4, has two bedrooms and two double beds.
Also in Pitsford is Cosy Country Cottage again on Airbnb. It also sleeps 4, with one double bedroom and one single bedroom, with optional extra single bed.
Often our students are traveling from abroad and want to stay close by  The video below gives you a little information about Sedgebrook Hall.  We recommend this option of you want somewhere reasonably close by  – It is 1.8 miles away, although the taxis may change a call out fee. It is possible to walk from this hotel if you are without transport in good weather only, and it is not suitable to walk in the dark. In winter most students staying here walk to the school in the morning and get a taxi/a lift back in the evening when it is dark. It is a good 20-minute walk, along the pathway of a busy country road, and then through the village to the school.
The Hall is set in beautiful grounds and has a restaurant and bar, and a small gym and swimming pool. We have arranged a discount code for our students. Please use code SOURDOU for the same online 10% discount but no payment required at booking.
We do advise that you BOOK your accommodation as soon as you have booked your place on the course, as there are often events in the area.
Although it is walking distance we also suggest that you do not walk this route in the winter months as it gets dark from October until May and it is a rural road with fast traffic.  We often find that students arrange shared transport to and from the school,  when they say in the same accommodation, but as this is a private arrangement between individuals, and we therefore leave this entirely up to individuals to organise themselves should they so wish. However there is list of taxi companies in this Q & A if you wish to book transport.
Brixworth village is 2.4 miles away from Pitsford village – this is roughly a 45-minute walk and there is a pavement and pathway along the entire route, but you may prefer to drive:
Cobbler's  Cottage is a lovely one double room self-contained garden cottage overlooking the countryside in Brixworth village. Cobblers Cottage is temporarily not on Airbnb. Please contact Ruth Joyce directly on 01604 894227
Also in Brixworth on Airbnb is the Charming Country Cottage a private self-contained cottage set within a lovely English country garden, sleeps up to 2 people.
Brixworth is a large village and has many facilities – shops, pubs, a restaurant, post office, takeaways etc.
For students who have their own transport during the course, or are happy to book taxis etc:
Brampton Grange: 2.7 miles away   – we have had great reports about the cottages at Brampton Grange.
We believe this is the most cost effective accommodation 
At Moulton village is Moulton College for students age 15 and over. The Venue at Moulton college offers student/visitor accommodation at very reasonable price with over 300 dormitory style bedrooms on site across two different campus. The rooms are all en suite with a mixture of twin and single rooms that benefit from WIFI, dedicated parking, social spaces and many have full kitchen area s. Bookings can be B&B, half board or full board, and there are kitchen facilities for those who prefer a self catering option. For any queries please view the website and email [email protected] or call 01604 491131. Please note: please arrive in good time to collect your key from the gatehouse because if it closed you will not be able to access your accommodation.
Moulton village is 2.9 miles away from Pitsford – although the village is walkable distance to the school there is no path along the road so it isn't safe to walk that way. There is however a public footpath that takes you through the countryside from Moulton to Pitsford. Here is a guide to countryside walks around Moulton that includes a map of the public footpaths. These footpaths go through fields so please do make sure this is suitable for you.
You can also find a lovely hotel we have had many students stay at http://www.thepoplarshotel.com/ – this is also in Moulton village, a small friendly hotel, again this is just a 5-minute drive from the school.
The Barn in the village of Moulton sleeps 2 people and is a self-contained cottage attached to the host's house. Moulton has shops, pubs and restaurants.
Holly Lodge Victorian Country House is just 5-10 minutes drive away in-between Boughton and Moulton villages – book through Airbnb. It has one single room for 1 person, and also there is an additional room that sleeps 1-2 people. The owners have a bicycle that they are happy to lend to students if the weather is good.
http://thegranarybb.co.uk/ – a farmhouse in a nearby village called Holcot, 10 minutes away. The owners are more than happy to give students a lift to the school if they are available, please ask when you book – also listed here on Airbnb as The Granary B&B
Mrs Margaret Vinton – a 10-minute drive at The Old House, East End, Scaldwell, Northamptonshire NN6 9LB
Tel: 01604 880359. Email: [email protected]
Brampton Grange Cottages are set in the grounds of an 18th-century country house. They can be B&B or self-catering. They are a 7-minute drive away from the school near Chapel Brampton village.
http://www.sundialgroup.com/venues-hotels/highgate-house/overview Highgate House hotel is a 15-minute drive away. Please call 01604 505505 and quote 'Sourdough' when booking for discounted rates: Friday to Sunday nights – £65.00, Monday to Thursday nights – £79.00. Includes breakfast and use of all leisure facilities – indoor swimming pool, fitness suite, and sauna.
Espais Roca – a collection of barn conversions at Clipston, 20 minutes drive away:
The Loft – 2 ensuite bedrooms, sofa bed in the lounge accommodates 1-6 guests
The Barn – 3 ensuite bedrooms, sofa bed in the lounge accommodates 1-8 guests
The Cottage at the same location  – 1 bedroom, sofa bed in the lounge accommodates 1-4 guests
Any queries and bookings please contact Dominic on [email protected]
The Barn, Orlingbury is available to book on Airbnb. Or you can book via Booking.com, or you can book directly by calling Nicola Walpole on 07710 820473 or email [email protected]. Prices are: £70 a night Sunday to Thursday, and £80 a night Fridays and Saturdays. Nicola really recommends wild water swimming in the summer at Wadenhoe. You can swim from the Kings Head pub garden. She says the pub there is great as well. Orlingbury is a 20 minute drive to the School.
For students who are coming with their families, we recommend finding accommodation in Market Harborough – a really pleasant small market town just north of us. It has plenty of things for partners and children to do while you are on the course. It is a 20-25 minute drive or on the local bus route. It is a very direct easy route, avoiding Northampton town which is very busy traffic-wise.
Local camping options:
Locally (5 mins away) we have Manor Farm Shop owned by Dennis – a farm shop with official provision for camping. Please message him for details. It is about £10 a night. There are electricity and water points and blue waste disposal. His address is Manor Farm, Northampton Road, Brixworth, Northampton NN6 9DG – it is just before the entrance of Brixworth Country Park and Pitsford Reservoir
http://waterloofarmleisure.co.uk/ north of us near a village called Great Oxendon LE16 8NB this one has a tea room. The pub in the village of Great Oxendon http://www.thegoodpubguide.co.uk/pub/view/George-LE16-8NA
http://www.brookmeadow.co.uk/ north of us in a village called Sibbertoft LE16 9UJ (this is the furthest away but comes highly recommended – 20 mins away) This one has a shower block etc. Less than a mile to the nearest pub – http://www.redlionwinepub.co.uk/
This website also shows areas where you are allowed to park locally, in countryside car parks etc. https://www.campercation.com/place/list/placesincounty/northamptonshire
TRANSPORT
Please note that workshops mainly start at 10 am from day 2 and finish at about 6pm.  In the winter it is dark and we recommend that you arrange transportation to and from The School rather than walking in the dark.
SHARING LIFTS
You may, of course, arrange for taxi sharing, or lifts yourselves with other students, but this is at your own risk with other students however we hold no responsibility or liability for any arrangements made privately.
We have a super taxi service called KPD with a set fee of £13.50 (weekdays) or £15 (weekends) to bring students to the school.  If there is more than one student travelling then they will bring you all at the same time and will advise you regarding the lower fare. To use this taxi service  call  01604 882798 or email [email protected]
We also use Amber taxis – 01604 232666 https://www.ambercarsnorthampton.com/
Other Northampton taxi companies are:
Ace Cars – 01604 719697
Bounds taxis – 01604 626262
Phoenix Class – 01604 222222
Please do let me know if you need any further help at all.
Best wishes
Vanessa