What if you could mill flour and support change in the bread industry to support health, environmental sustainability, and consumer empowerment?
With the Botanical Blend Flour™ Licence, you have the opportunity to be at the forefront of this transformative movement, offering Diversity Bread™ that nourishes both people and the planet.
Social prescribing at The Sourdough School is not just a service it is systems change and a community-based approach that brings a holistic perspective to health and wellbeing. From the individual who nourishes themselves milling their own Botanical Blend Flour to the community baker who uses our Diversity products, we empower everyone involved in the journey of bread-making. We've been teaching bakers globally for over a decade to use BALM, and now
What became clear was that we were not simply creating a product but crafting an adaptable framework for systems change. So we created a suite of licences as a way for other others to use the extensive knowledge and structure that underpins BALM protocol. We hope that in doing so we make it possible for a broader sector to tap into this transformative power, enriching the health of individuals and communities alike.
Who might want to mill botanical flour?
We've been in conversation with industrial flour producers to make bread for the supermarkets, and had conversations with farmers and estates who want produce flour to increase their revenue for their grain and engage more with the local market.
Supporting Diversity in the Gut and Diversity in the Environment
Botanical Blend Flour underpins Diversity bread. The flour allows industrial bakers to infuse their bread with an enhanced level of diversity and nourishment, revolutionising the conventional bread-making process without the need for complex system redesigns.
Are there already any partners?
Yes, we work extensively with Hodmedods.  You would not be in competition to Hodmdods. Rather they are a partner in our work and they ensure the values and fairness in the sourcing of ingredients and in the milling and distribution of our flour.  You are not obliged to work with them, however suggest that you consider working with them as they are amazing.  Even if you are a farmer or have an estate, or you are a larger mill we would suggest that you engage Hodmdods to and work with them to help you to create a blend.  They are also able to help bespoke blends, for bakeries and and like us they have an underlying motivation for systems change.  You will discover that they are extraordinary in their work and knowledge.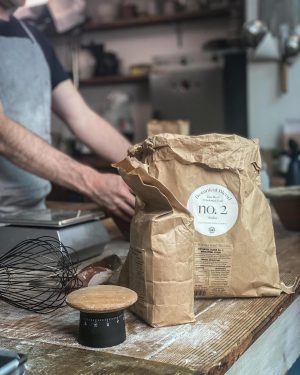 We've also developed the BALM Diploma to teach and clinician licenses to empower and educate. Anyone can now train to teach BALM, and healthcare professionals can prescribe it, broadening the reach of our mission.
Our role has been multi-faceted to support, insure, educate, empower, and innovate. We aim to enhance social justice and transform the way we approach bread in all sectors. Each license we issue doesn't just generate income for us – it also builds capacity and infrastructure to improve the environment and nourish the wider community.
The cost of a licence is paid in educational awards and social prescriptions
The Botanical Blend licence helps to fund The Sourdough School's approach to social prescribing creating a groundbreaking self-funding system change programme. It's a game changer, enabling us to create a healthier, more diverse, and more equitable world, one loaf of bread at a time.