Recipe By:
Heather Henderson
Recipe Status:
Untested
Kind of Bake:
Retarded overnight – San Francisco Style – mixed in the morning, retarded in the fridge overnight, baked at any point the next day
Makes:
2 x 1kg or 3 x 667g loaves
Created Over:
3 days
Recommended For:

anyone can eat this
managing blood sugar levels
weight management
mental health issues
| | |
| --- | --- |
| Diversity Score: | Seven |
| Increase Fibre: | Through the combination of Stoneground and Wholegrain Flours in the Blend and by using the Whole Rye Flour as the leaven. |
| Probiotic Serving Suggestion: | Homemade Cultured Butter (using Garden of Life Mood+ Probiotic) |
| Antioxidants: | Through the addition of Cranberry Seeds in the blend. Also by using a homemade Basil, Pumpkin & Hemp Pesto spread as a serving option. |
| Suggested Botanical Blend: | I blended flour to create diversity please see the recipe |
Ingredients
| Ingredients | Quantity |
| --- | --- |
| Leaven (Organic Whole Rye #2) | 200g |
| Filtered Berkey Water | 715g (Plus 3x25g water for Bassinage) |
| Strong White Flour | 600g |
| Canadian Local flour blend (see flour blend below) | 400g |
| Crushed Cranberry Seeds (optional) | 5g |
| Pink Himalayan Sea Salt | 20g |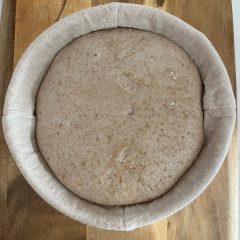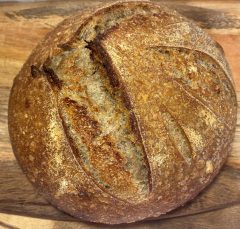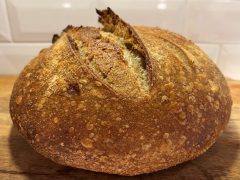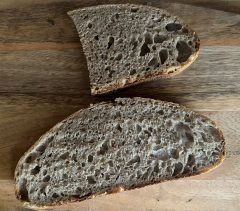 Recipe Introduction
A nutty, tangy, lively and fibre-rich boule for healing the gut, this recipe has a long slow fermentation supporting improved digestibility, and with a variety of whole grains, it aids in reducing inflammation, improving bowel function and increasing gut microbiome (community) diversity.
It was created for my husband: He was diagnosed with Colon Cancer a few years ago, leading us on a journey of learning about and paying better attention to our overall health, but more specifically gut and colon health.
As a student at The Sourdough School, I've learned about the amazing benefits of whole grains for gut health, which lead me on a quest sourcing local flours and grains for my bakes. I spent several years as an Organic farmer in rural Canada, dating back to 2009, which connected me to the local Amish Community I worked alongside. My connection to these rural communities is what led me to local mills to source the variety of grains and flours I used for this gut healing recipe.
Created for the health of my family, this recipe is built around connection and community and as with all good things in life, is best shared.
Equipment
1 small mixing bowl
1 large mixing bowl
wooden spatula for mixing
2x 10" or 3x 8" round bannetons
tea towels
lame
Dutch oven
oven gloves
Tin Size cm (HxWxD)
10 x 23 x 23
Starter Quantity
40g
Status of Starter
bubbly, lively first-build starter
DDT
24°C (75°F)
---
Flours
Red Fife Organic Stoneground - H.O.P.E. Eco Farms
Spelt Organic Wholegrain - Brant Flour Mills
Organic Whole Rye #2 - Brant Flour Mills
Raven Rye (light) - K2 Milling
Hemp Flour - K2 Milling
Tecumseth Malt Barley - K2 Milling
Organic Strong White - Boreal Premium Organic
Baking Temperature
230°C/210°C fan/450°F/gas mark 8
Baking Time
40 minutes (30 min with lid on)
---
Timings
| Step | Day | Timings (hh:mm) |
| --- | --- | --- |
| Refresh starter | Day 1 | 10am |
| 10am | Day 1 | 10pm |
| Plan Bake (flours, temperatures, timings, etc) | Day 2 | 8am |
| Make Leaven | Day 2 | 9am |
| Blend flours for bake | Day 2 | 9:15am |
| Mix 71g water & leaven into dough | Day 2 | 11am |
| Autolyse with leaven | Day 2 | 11am |
| Bassinage 75g (3x 25g) | Day 2 | 11:30am |
| Add salt - start bulk | Day 2 | 12pm |
| Stretch & fold (optional) | Day 2 | 12:30pm |
| End Bulk - preshape | Day 2 | 3pm |
| Final Shaping | Day 2 | 3:30pm |
| Put in fridge 5C | Day 2 | 4:15pm |
| Score and Bake | Day 3 | 8am-4pm |
How to Store
Store up to 5 days on counter in a clean linen bag. Best eaten within the first 2-3 days then works great as a toaster bread.
Freezes well either sliced or left whole to enjoy fresh at a later date.
Top Tips
Removing 75g of the total water and incorporating it back in through a bassinage helped the different flours in the mix absorb the water better overall and made the initial mixing easier. Also, extending the cold ferment from 16hrs to 24hrs helped create a tighter loaf for easier scoring and added richer flavour.