| | |
| --- | --- |
| Recipe By: | Hermione Prousaef |
| Recipe Status: | Untested |
| Kind of Bake: | Retarded overnight – San Francisco Style – mixed in the morning, retarded in the fridge overnight, baked at any point the next day |
| Makes: | 2 |
| Created Over: | 3 days |
| Recommended For: | |
| | |
| --- | --- |
| Diversity Score: | 19 |
| Increase Fibre: | I increase the fiber by using spelt, common wheat, durum wheat ,rye, maize ,barley, oat ,carob ,buckwheat, flaxseeds, black lentils, poppy seeds and amaranth. |
| Probiotic Serving Suggestion: | I like to toast it and top it with feta cheese and sprinkle it with honey! |
| Antioxidants: | By using oregano,mountain tea,olive leafs,spelt, common and durum wheat,amaranth,flaxseeds,buckwheat,feta cheese,honey. |
| Suggested Botanical Blend: | I created my own Botanical Blend |
Ingredients
| Ingredients | Quantity |
| --- | --- |
| White strong bread flour 14% protein | 800gr |
| Greek botanical blend | 200gr |
| Water | 820gr |
| Salt | 20gr |
| Levain | 200gr |
Botanical Blend by Hermione Prousaef
| Ingredients | Quantity |
| --- | --- |
| Spelt | 650gr |
| Common wheat | 80gr |
| Durum wheat | 80gr |
| Rye | 30gr |
| Maize | 25gr |
| Barley | 25gr |
| Oat | 20gr |
| Carob | 10gr |
| Amarath | 15gr |
| Buckwheat | 15gr |
| Poppy seeds | 15gr |
| Flaxseeds yellow | 15gr |
| Black lentils | 15gr |
| Wild oregano , Olive leafs , Mountain Tea (Sideritis) ,Rose petals, Mallow,Nettle | 5gr |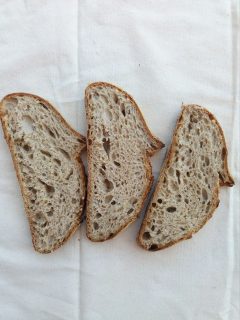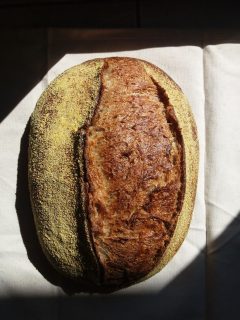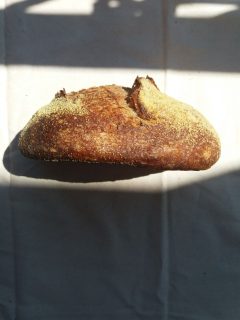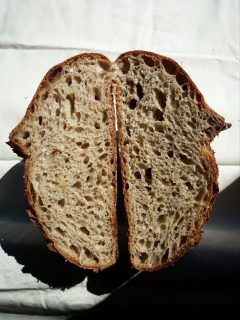 Recipe Introduction
This recipe and specifically my Greek botanical blend took me a while to finish it and to add all the research.
My though is to show you and celebrate with you the Greek heritage and of course follow the core principles of creating a nourishing bread. But also help to nourish my mum and support her gut heath as she has asthma.
This is the main reson why i add amaranth ,oregano and mountain tea in my blend.
The first thing i did, it was to ask my self: What we cultivate in Greece? So i take a walk at our fields and flora,and the first thing i saw everywhere was : common wheat, durum wheat, maize,poppy flowers, wild oregano,olive trees,mountain tea ,mallows and nettles so i thought: Thats it! Thats my blend! But also other ingredients that we have in Greece like carob where it grows in Crete.
In Greece bread is very important and you can find it in every house!We enjoy this bread almost everywhere. From breakfast to lunch to dinner. One of our favourite thing to do as Greeks when we are on the table together, we like to cut a piece of bread with our hands and dip it in the oil of the Greek salad, which contains tomatoes, cucumbers, feta cheese, oregano and olives.But we basically do this with all of our foods that you can dip the bread and soak up the flavours. This is our tradition!
My dad is a farmer. I know how hard is that work. I know that weather conditions are often not on the farmer's side. I have learned from very young to appreciate his job.One of my favourite things was when me and my sister where younger my dad he used to put us in the cart of the farm car and take us for a drive in his fields. I was always impressed by the power of my dad and the land,their cooperation and union, how much the wheat changed. It always start with a seed, then it became a green plant ( that's how it looked to my eyes) and later it turned yellow and ready for harvesting.
We as people need to appreciate the farmers and land. I learned to approche the flour and bread making diffrently. Whenever i touch the flour all these memories came back.I touch the flour and feel calm and peacfull.
I guess that for me bread and grains are a memory, a childhood memory so as my blend.
Equipment
mixing bowl
wooden spoon
dough scraper
banneton basket
Duch oven or Spun Iron Cloche
braed lame
Tin Size cm (HxWxD)
8cm x 25cm x 8cm
Starter Quantity
I use 40gr starter to built my levain.
Status of Starter
bubbly, lively second-build starter
DDT
25°C (77°F)
---
Flours
These are my ingredients listed form the blend above which I blended with White strong bread flour (Antonopoulos Farm)
Spelt (Green Family)
Common wheat (Antonopoulos Farm)
Durum wheat (Antonopoulos Farm)
Rye (Antonopoulos Farm)
Maize (Antonopoulos Farm)
Barley (Antonopoulos Farm)
Oat (Antonopoulos Farm)
Amaranth (Bioagros)
Buckwhat (Bioagros)
Poppy seeds ( Greek local store)
Flaxseeds yellow (Bioagros)
Black lentils ( Greek local store)
Oregano wild (From our mountains in my village)
Mountain Tea (From our mountains in my village)
Olive leafs ( From my tree)
Rose petals (From my grandpas garden)
Baking Temperature
220°C/200°C fan/425°F/gas mark 7
Baking Time
I baked with the lid for 30min at 220°C , then remove the lid , reduce to 200°C and bake for further 30min. Total bake time 1hour.
---
Timings
| Step | Day | Timings (hh:mm) |
| --- | --- | --- |
| Refresh starter (1st built) | Day 1 | 22:00 p.m |
| Refresh starter (2nd built) | Day 2 | 8:00 a.m |
| Make levain | Day 2 | 11:00 a.m |
| Mix flour , levain, 790gr water | Day 2 | 13:00 p.m |
| Add salt and 30 extra water | Day 2 | 13:30 p.m |
| 1st Coil fold | Day 2 | 14:00 p.m |
| 2nd Coil fold | Day 2 | 14:30 p.m |
| 3rd Coil fold | Day 2 | 15:00 p.m |
| 4rth Coil fold | Day 2 | 15:30 p.m |
| Pre-shape | Day 2 | 16:00 p.m |
| Final shape | Day 2 | 16:30 p.m |
| In the fridge | Day 2 | 16:45 p.m |
| Bake | Day 3 | From 7:00 a.m |
How to Store
You can store this bread Summer or Winter in a bread case for 3 days as long as the bread case is dry and not moist.
Top Tips
I created this recipe with hand mixing just because i love touching the dough and have connection with the flours and water temperatures.
I want to start by saying that my DDT and Bulk fermentation is colder and less than the usual because when i tested that recipe it was summer and very hot with my kitchains room temperature at 30°C so this is also the reason why my starter builed in very short time and why i use a fast levain (You can also use less levain). If where you live the weather is colder you just need to increase the temperature of the water and bulk fermentation but also change the timing. When i say that i mean that your starter may need to built longer until it peeks and be ready to be used and do a longer bulk fermentation.
Except from my Greek blend i also use a white flour with 14% protin so i can play with the hydration.
This recipe is 82% hydration and it is based on the 20% WHOLEMEAL CLASSIC SOURDOUGH BOULE – RETARDED but i used my own blend and increase the hydration.If you want you can add less hydration.
Of course if you can find Mountain tea or olive leafs you can just skip them or use an other green tea.
For a good probiotic finish you need to serve with unpasteurised cheese or cultured butter.