| | |
| --- | --- |
| Recipe By: | Jessica Higgott |
| Recipe Status: | Untested |
| Kind of Bake: | Retarded overnight – San Francisco Style – mixed in the morning, retarded in the fridge overnight, baked at any point the next day |
| Makes: | 2 boules |
| Created Over: | 3 days |
| Recommended For: | |
| | |
| --- | --- |
| Diversity Score: | 27 |
| Increase Fibre: | Through the combination of wholegrain flours (rye in the leaven & wholegrain spelt in the botanical blend) and the oats & seeds in the porridge. |
| Probiotic Serving Suggestion: | Cultured butter or organic greek yogurt with fresh blueberries or blueberry compote. |
| Antioxidants: | There are antioxidants in the wholegrains, the turmeric chai, the dark chococolate, the walnuts, the orange zest and the blueberries/blueberry compote. |
| Suggested Botanical Blend: | I created my own Botanical Blend |
Ingredients
| Ingredients | Quantity |
| --- | --- |
| Starter | 35g |
| Turmeric Chai (Turmeric root, Ginger, Cinnamon) @ 27'c | 85g |
| Rye (for the leaven) | 75g |
| Porridge blend (rude health, 5 grain, 5 seed porridge | 60g |
| Water for the porridge | 240g (add more if needed) |
| Strong White Bread Flour | 700g |
| Botanical Blend | 300g |
| Water @ 27'c | 750g |
| Fast Leaven | 200g |
| Pink Himalayan rock salt | 20g |
| Dark Chocolate | 75g |
| Walnuts | Walnuts |
| Zest of 1 orange | 1 |
Botanical Blend by Jessica Higgott
| Ingredients | Quantity |
| --- | --- |
| Wholegrain Spelt | 650g |
| Einkorn & Emmer | 270g |
| Flaxseed | 20g |
| Chia | 20g |
| Hemp | 20g |
| Pinto or Kidney Beans | 15g |
| Rosemary, Lemon Balm & Lavender | 5g |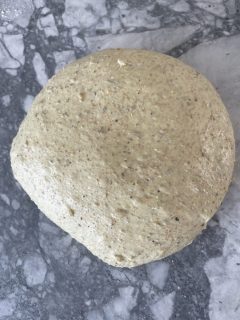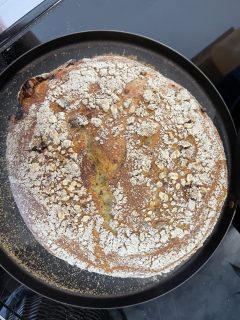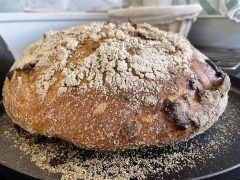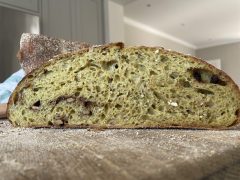 Recipe Introduction
It all begins with sourcing the ingredients, visiting farmers markets & talking to people - who are genuinely interested to hear what you plan to create with the produce they have grown. This recipe is about slowing down, enjoying the process and nourishing the body - mind connection. There are a few different components within this recipe which all provide moments of mindfulness and calm, then once they come together you are left with a delicious labour of love to cherish and enjoy with whomever you wish.
Whilst the Turmeric Chai is brewing & cooling, be sure to pour yourself a cup to enjoy the fragrant scent. Make two bowls of porridge, one to nourish you and the other to nourish your bread. Inhale the uplifting aroma's as you grate the orange zest and chop the dark chocolate.
This recipe was also created with my late mother in mind who sadly passed away after suffering extremely early onset Alzheimers, all the ingredients I have chosen are to promote brain health and a healthy gut-brain connection and general positivity, even the colour of the turmeric as yellow is very symbolic and often thought of as the colour of hope (which we all need!).
Equipment
Small saucepan for porridge
Wooden spoon
Small bowl for leaven
Tea-towel
Large mixing bowl
Dough scraper
2 x 1kg banntons
Lame
Cloche
Tin Size cm (HxWxD)
N/A x N/A x N/A
Starter Quantity
35g
Status of Starter
bubbly, lively first-build starter
DDT
26°C (79°F)
---
Flours
Marriages organic strong white bread flour
Sharpham Park Organic Wholegrain Spelt flour
Maud Foster Einkorn & Emmer
Baking Temperature
220°C/200°C fan/425°F/gas mark 7
Baking Time
1 hour in a cloche
---
Timings
| Step | Day | Timings (hh:mm) |
| --- | --- | --- |
| Refresh starter (first build) | Day 1 | 10am |
| Refresh starter (second build) | Day 1 | 10pm |
| Make Turmeric Chai | Day 2 | 7:30am |
| Make porridge | Day 2 | 7:45am |
| Plan bake | Day 2 | 8am |
| Mix Leaven | Day 2 | 9am |
| Mix flours and 650g water | Day 2 | 11am |
| Autolyse with leaven | Day 2 | 11am |
| Bassinage incrementally 100g water (25g at a time) | Day 2 | 11:15am |
| Add porridge | Day 2 | 12:30pm |
| Add salt and begin bulk | Day 2 | 1pm |
| Stretch and fold | Day 2 | 1:20pm |
| Pre-shape | Day 2 | 3pm |
| Final shape | Day 2 | 3:30pm |
| Put in fridge at 5'c and leave overnight | Day 2 | 4pm |
| Pre-heat oven for 30 mins then Bake! | Day 3 | After 9am |
How to Store
Because this is a high hydration porridge bread it does keep for a few days or you could slice and freeze.
Top Tips
Choose a porridge that already has a high diversity score to really help boost the fibre content and overall diversity.
With the chai, don't just add the liquid, add the contents of the tea bag too - again this will increase diversity.
Make sure the gluten has had plenty of time to develop before adding the porridge.
When gradually aded the water during the bassinage, if you think the mix is too wet then don't add all the water.
Make sure the porridge has absorbed all the liquid and is not sloppy!