| | |
| --- | --- |
| Recipe By: | Libby Moon |
| Recipe Status: | Untested |
| Kind of Bake: | Ambient day – French style – mixed in the morning and baked in the evening |
| Makes: | 2 x 500 g Boule Loaves |
| Created Over: | 2 days |
| Recommended For: | |
| | |
| --- | --- |
| Diversity Score: | 15 |
| Increase Fibre: | Increased fibre is present in the stone-ground flours, nuts, seeds, dried flowers and cocoa. |
| Probiotic Serving Suggestion: | I made a cultured butter to which I added melted and cooled dark chocolate, 1 tsp cooled espresso coffee and orange zest. I also made a labneh and added maple syrup, honey, vanilla and orange zest |
| Antioxidants: | Dark chocolate, orange, nuts, cocoa, coffee. |
| Suggested Botanical Blend: | I created my own Botanical Blend |
Ingredients
| Ingredients | Quantity |
| --- | --- |
| LEAVEN = Active starter 25g + 50g rye +50g wholegrain + 100g water@26C | 200g |
| Stone-ground White | 350 g |
| Stone-ground Whole-Wheat | 100 g |
| Stone-ground Spelt | 200g |
| Stone-ground Rye | 170g |
| Rolled oats (I milled them) or use oat flour | 100g |
| Premium Cocoa | 1 TBSP |
| Botanical Blend milled in a coffee grinder (see below) | 85g |
| Water at 27 C | 850g |
| Salt | 24g |
| Whittakers Dark Ghana Chocolate 72% | 300g |
| Roasted Hazelnuts | 300g |
| Zest of orange | 5g |
| Butter | 80g |
| Brown Sugar | 60g |
Botanical Blend by Libby Moon
| Ingredients | Quantity |
| --- | --- |
| This added up to 85g in the recipe: Poppy Seeds | 20g |
| Golden Flaxseed | 20g |
| Cacao Nibs | 20g |
| Coffee | 20g |
| Dried Hibiscus Flowers | 5g |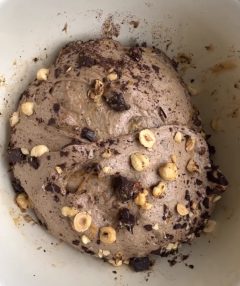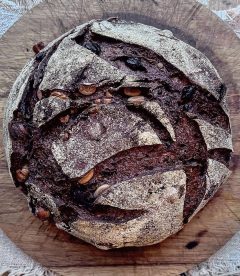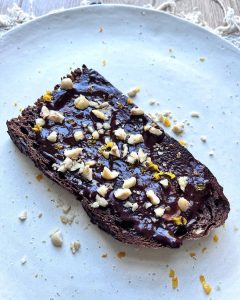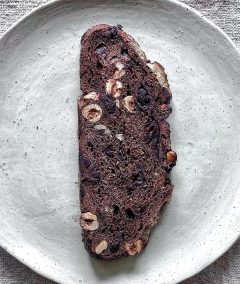 Recipe Introduction
This loaf is specifically designed to evoke celebration, well being and to aid in those battling with anxiety, depression or grief. It can be eaten with friends and so this is good for connecting to others - a key part or the pillars of lifestyle medicine is in healthy relationships. You can eat this fresh, just sliced with no accompaniments, or toasted and spread lavishly with chocolate cultured butter, flavoured labneh or eaten with a lovely soft mellow unpasteurised cheese to encourage you to eat probiotics. It's the perfect everyday loaf to elevate your week or baked especially for a special celebration.
Primarily I designed this loaf because I love all the ingredients, and wanted to make a bread that was decadent and healthy and made those I shared it with happy and feel loved
This recipe is very connected to all my flour millers and many local organic suppliers, and it's the perfect representation of a symbiotic collection of ingredients which are both delicious and nutritious; and good for the body and the soul.
A slice of this loaf can be eaten simply as a piece of bread which already contains a number of symbiotic ingredients, and also eaten with various other options such as mentioned above. Through the fermentation process the sugars and starches in this loaf have been transformed, so that they are more compatible for gut health and more manageable to help regulate our blood sugar levels.
This was the favorite loaf of a friend of mine who went through a lot of grief and heartbreak this year. Also she used to be unable to eat bread with gluten but since meeting me in the last year and trying my bread, can now eat ALL my sourdough. It's made me very happy.
It is definitely a loaf full of diversity, nutrition, goodness, soul, love, decadence, hope, and healing.
Equipment
Large Bakers Bowl
Digital Scales
Wooden spatula
Extra Bowls to mix leaven etc
Jug for water
Flour Scoops
Bannetons
Cast iron pots
Lame
Wire Cooling Rack
Baking Paper
Round Board
Cloths for wiping benches
A teapot, tea and a special cup for those cups of tea while prepping.
Tea Towels
Tin Size cm (HxWxD)
Cast Iron Pot 4.8 Litre x Cast Iron Pot 4.8 Litre x Cast Iron Pot 4.8 Litre
Starter Quantity
200g
Status of Starter
bubbly, lively second-build starter
DDT
26°C (79°F)
---
Flours
Stoneground Whole-Wheat and White @minchinsmilling
Stoneground Spelt and Rye @milmoredowns
Baking Temperature
230°C/210°C fan/450°F/gas mark 8
Baking Time
45 mins - 1 hour
---
Timings
| Step | Day | Timings (hh:mm) |
| --- | --- | --- |
| Refresh starter | Day 1 | 9am |
| Mix up first build starter | Day 1 | 9 pm |
| Mix up leaven (second build starter) | Day 2 | 8 am |
| Measure 1 kg Botanical blend flour into mixing bowl. Chop hazelnuts and chocolate, add orange zest and add these to the softened butter and brown sugar and set aside for later | Day 2 | 1 pm |
| Measure 800 g 26 C water into separate bowl | Day 2 | 1 15 pm |
| Mix active leaven into water | Day 2 | 1 20 pm |
| Add mixed leaven and water to 1 kg flour. Hand mix for 10 min | Day 2 | 1 25 pm |
| Autolyse for half an hour. Measure 50 g 26 C water ready for bassinage | Day 2 | 1 55 pm |
| Begin Bassinage with 20 g of 26 C water. | Day 2 | 1 55 pm |
| Repeat bassinage with 20 g 26 C water | Day 2 | 2 10 pm |
| Conclude bassinage and salt inclusion with 10 g of 26 C water - check dough temp for approx 28 C | Day 2 | 2 25 pm |
| Perform 6 stretch and folds over 2 hours - 3 per hour - check dough temperature for approx 28 C | Day 2 | 2 30 pm |
| Begin to fold in the hazelnut, chocolate, butter and sugar paste over the next hour of stretch and folds | Day 2 | 3 30 pm |
| Leave to rise for the last 30-40 mins with no stretch and folds - check dough temperature | Day 2 | 4 30 pm |
| Turn the dough onto a lightly floured board, and shape. With an ambient prove there is no need for this loaf to have a bench rest or floor time. | Day 2 | 5 10 pm |
| Place dough into floured bannetons and leave on the bench for an ambient rise for approx 3 hours | Day 2 | 5 15 pm |
| Perform a finger press test to ascertain fermentation status | Day 2 | 8 15 pm |
| Place covered bannetons in the fridge for half an hour. Place cast iron pots in the oven and heat to oven temperature to 230 C | Day 2 | 8 15 pm |
| Prepare your loaves for baking and score them- take pots from the oven with mitts and transfer loaves to the pots, place lids on and place in the oven | Day 2 | 8 45 pm |
| Bake loaves for 30 mins with the lids on and 15- 20 mins with the lids off. Keep an eye on them as loaves with nuts, sugar and chocolate can burn easily. Bake until golden | Day 2 | 9 30 ish pm |
| Leave to cool overnight on wire racks inside a large cupboard. | Day 2 | 9 30 ish pm |
| Cut in the morning for breakfast! | Day 3 | 8 am |
How to Store
This loaf keeps well when wrapped in a tea-towel and stored inside a linen bread bag, inside a cool temperature cupboard. It can last for up to 7 days plus, and can be easily revived by lightly toasting or making into a bread and butter pudding. However I doubt it will last that long!
Top Tips
Be flexible with timings as it depends on seasonal temperatures. Maintain dough temperature and make sure water temperatures are accurate. Water was added by thoroughly mixing and bassinaging. Have all the equipment ready and close and keep your benches clean, tidy and orderly.