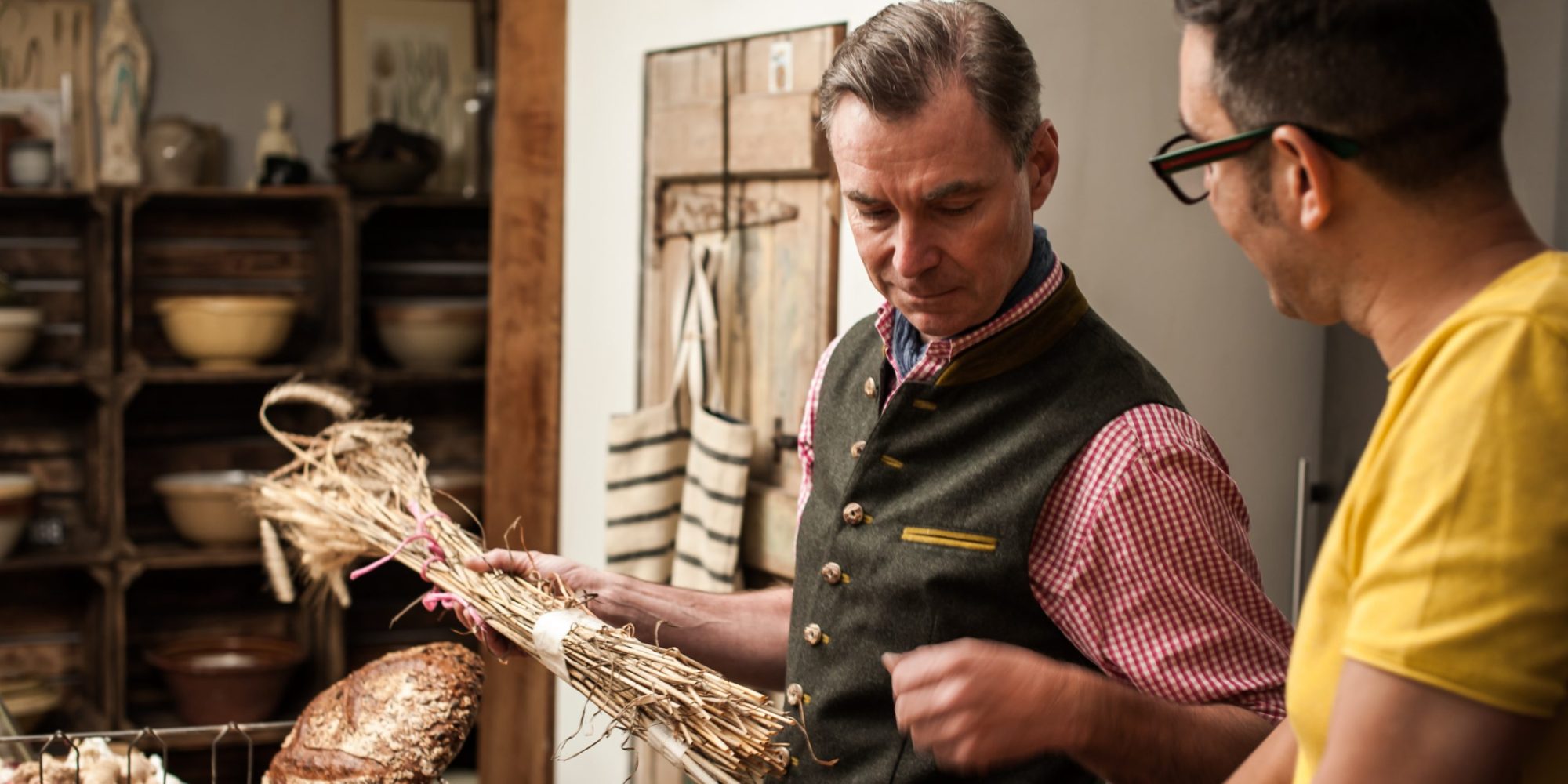 Dr Andrew Wilkinson is part of our science team here at the sourdough school, bringing his specialist knowledge in grain. Andrew has been working for many years with Vanessa and supplies both our grains wee use and the flour through his farm Gilchesters in Northumberland.
Professional Experience
Andrew is an ex-army officer turned farmer and a leading figure in bringing heritage grains back into commercial production in the UK. His work in both farming and research is widely recognised. He led the organic crop research programme at Newcastle University and has invested a huge amount of time in meticulously researching which grains are best suited to the climate and conditions of his northeast England farm.
Together with his wife, Sybille, Andrew produces a range of high-quality flours, which we have used at The Sourdough School for many years now. Andrew says that one of his aims when starting to farm was to prove wrong the idea many people held that it was not possible to grow milling quality grains so far north.
Research
Andrew's research focuses on a passion for finding and evaluating grain varieties for organic production. He says that he is searching for varieties that deliver on flavour and quality, rather than those that are simply high yielding.
Working with plant breeders in Europe, he is finding that the older, taller-growing plants respond best to an organic regime. These varieties are also showing more resistance to changing weather patterns than the widely grown modern varieties. Andrew explains he is now using his vegetable patch to grow different varieties of grain, rather than carrots. He uses the space as a nursery bed to bulk up seed stock until he has enough to grow in field trials. These trials allow him to assess how well the plants are adapted to organic growing conditions.
Andrew has recently completed his PhD titled 'Improving the agronomic management and utilisation of organic breadmaking wheat.' His work looked at how soil fertility management, in conjunction with different varieties, could maximise the quality of grains used in breadmaking.
Working with The Sourdough School
Andrew has known Vanessa for many years now and has been a great source of information and advice on how best to use different grains and flours in baking. He is always happy to share his expertise on the science that lies behind why different flours perform in certain ways.
He says that in working with The Sourdough School he hopes to provide students with a working knowledge of cereal chemistry and its influence on milling and baking qualities… or as he says much more succinctly 'what's in your flour and where does it come from?'
On sourdough…
Having links with many great bakers through Gilchesters Organics, Andrew eats only sourdough bread. He says bakers will often send him loaves when they are developing something new with one of his flours. So, whether it's toast with jam for breakfast, generously cut slices to accompany a bowl of soup at lunchtime, or hunks of bread with dips or pate for tea, sourdough is always going to be best.
Connect with Andrew on Instagram.