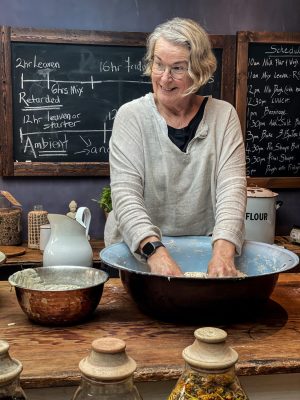 The Dr Annie Elliot Awards Programme
Applications are now open and for Healthcare Professionals to apply for a scholarship, award, or grant for our online Diploma in Prescribing Baking as Lifestyle Medicine.
Funding
The awards are part of our Systems Change Programme and a belief in making knowledge more accessible and sharing a way to bake to improve health.  Before you apply, please ensure that you have read The Sourdough School 2023-Prospectus.
3 Diploma Award Choices
You may apply for ONE award. Please choose the appropriate from the list below, and tick Diploma in the form below.
10 x 100% Scholarships for Junior Doctors & trainee GP's (only) for the 2 year Diploma in Prescribing Baking as Lifestyle Medicine
10 x 50 % Educational Award for individuals for Healthcare Professionals who intend to use the knowledge from our courses to directly make a difference in their community, whether through their surgery, healthcare practice or a registered charity, as part of a community group, or as an individual.
20 x 50%  Small business grant to companies with below £500,000 turnover  (this is a discount that does not need to be paid back) for initiatives of innovative ways that our prescribing training programme can be used to improve social equality or increased access to knowledge for patients.
What makes a successful applicant?
The section " How will you use the knowledge once you have graduated?" asks you what you are proposing to do with Baking as Lifestyle Medicine and why this is important to you. Here are our tips for successful applications:
Successful candidates will demonstrate a clear understanding of the needs of the patients in their community and propose how they will apply the knowledge of Baking as Lifestyle Medicine to their practice.
We suggest that you provide a clear rationale, including who you feel that you will be prescribing for and why you are motivated in particular to work with Baking as Lifestyle Medicine.  Please include specific aims and well-defined criteria of how you will apply the knowledge.
We recommend that you take time to write this and then cut copy paste it into the form.  Please keep this concise and make it as easy as possible for us to understand, and remember to include which country you are in, if you are not UK based.
Acceptance
Should you be accepted on the course you will sent a voucher to the value of your award, and be invited to enrol via the standard course booking process.
Unsuccessful applications are reviewed and deleted after 3 months.
We have limited spaces on our programmes, we therefore ask that in applying below you agree:
To pay any fees outstanding by the 30th September.
Agreed not to accept an award if you cannot fully commit to the programme.  We have a limited number of places, so before applying please check out the number of hours required for the course you are applying for.
You understand that the scholarship programme is for online courses only, and discounts cannot be transferred to in-person courses.
Understand that scholarships and bursaries are subject to the Sourdough School Terms and Conditions of business.
(Please pay particular attention to your application and be sure to tick Diploma and ensure that you tick just one of the 3 choices in the form below – incorrect combinations may not exist as awards and will invalidate your application.)
Should you wish to discuss your application you may speak to Vanessa directly in the 4pm open lives sessions.
Applications will open April 2023 and close on the 22nd August. Successful applicants will be invited to an online open day for a presentation and will be informed by email by the 1st week of September.
Apply Here