[Insert video here]
About Kimberley Wilson
Kimberley is a Chartered Psychologist, author and visiting lecturer working in private practice in central London; a Governor of the Tavistock & Portman NHS Mental Health Trust; and the former Chair of the British Psychological Society's Training Committee in Counselling Psychology – the group responsible for monitoring and assessing the standards of Counselling Psychology training across the UK. She formerly led the therapy service at HMP & YOI Holloway, which at the time was Europe's largest women's prison (closed summer 2016).
A former finalist on the Great British Bake Off, and an award-winning food producer with a degree in nutrition, her work looks at the role food and lifestyle plays in our mental health, including disordered eating, the gut-brain axis and our emotional relationship with food.
She is passionate about the power of psychology to transform lives and is committed to demystifying the theories and putting the information into the hands of the people who need it through social media, her Stronger Minds Podcast and live events, alongside consulting for international brands and regular appearances on expert panels.
The way we think about mental health – as separate from physical health – is flawed. Kimberley's philosophy of Whole Body Mental Health is a comprehensive approach to mental health care; integrating evidence-based nutrition and lifestyle factors with psychological therapy.
The way we treat mental illness is changing. Join the revolution!
Kimberley's first book How to Build a Healthy Brain was published by Yellow Kite in March 2020.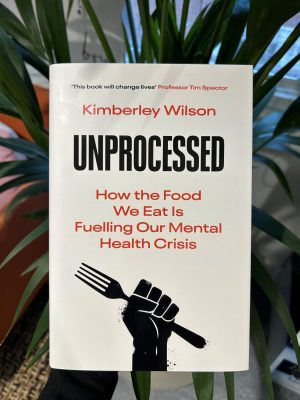 Her second book Unprocessed was published in February 2023 by WH Allen:
In this eye-opening and impassioned book, psychologist @foodandpsych draws on startling new research – as well as her own work in prisons, schools and hospitals around the country – to reveal the role of food and nutrients in brain development and mental health.
An extract from Unprocessed by Kimberley Wilson (WH Allen), from chapter 'Choline – the game changing number two', pages 79-80
'While I am certain that many, perhaps the majority of, autism cases arise spontaneously, there is a growing body of research literature on the in-utero conditions that are associated with an increased incidence of autism. For example, prenatal maternal stress is a significant predictor of autistic traits, especially in males. A meta-analysis published in 2021 showed an association between maternal infection or fever during pregnancy and increased risk of autism. The researchers estimate that incidence of autism would drop by 12–17 per cent if infection during pregnancy could be prevented. Maternal autoantibody-related autism spectrum disorder involves harmful antibodies from the mother's immune system crossing the placenta, entering the foetal brain and causing alterations in neural development. When the mother's blood during pregnancy contains these antibodies there is an eight times increased risk that the child will have autism.
These studies highlight the fact that in utero exposures have a bearing on the likelihood of a child developing autism. There is converging evidence for the availability of choline as a risk factor of autism.
One study compared brain tissue samples of deceased individuals, looking at the hallmarks of cholinergic activity in the brains of autistic people, people with non-autistic neurodevelopmental impairment, and healthy controls. It found that a cholinergic receptor called M1 was significantly lower (up to 30 per cent) in people with autism compared to the other two groups.
Many autistic people experience difficulties associated with sensory processing, such as a heightened sensitivity to sudden or loud noises. This processing of sensory information depends on the action of acetylcholine. A recent paper used computer modelling to investigate the potential of nutritional choline to improve sensory processing in autism. To do this, the research team collated the data on two sets of genes: those that are associated with autistic spectrum disorders and those involved in cholinergic signalling. They found several points of interaction for both choline and acetylcholine and conclude that dietary choline is a low-risk intervention for cell signalling and the availability of acetylcholine in autistic people.'
You can read all about Kimberley Wilson and her work via her website.
Follow her on Instagram @foodandpsych
Further reading:
Baking, Brain Health and Bread by Vanessa about Kimberley's first book.