| | |
| --- | --- |
| Makes: | 2 foccacia |
| Level: | Beginner |
| Created Over: | Mix and bake immediately |
| Kind of Bake: | Ambient day – French style – mixed in the morning and baked in the evening |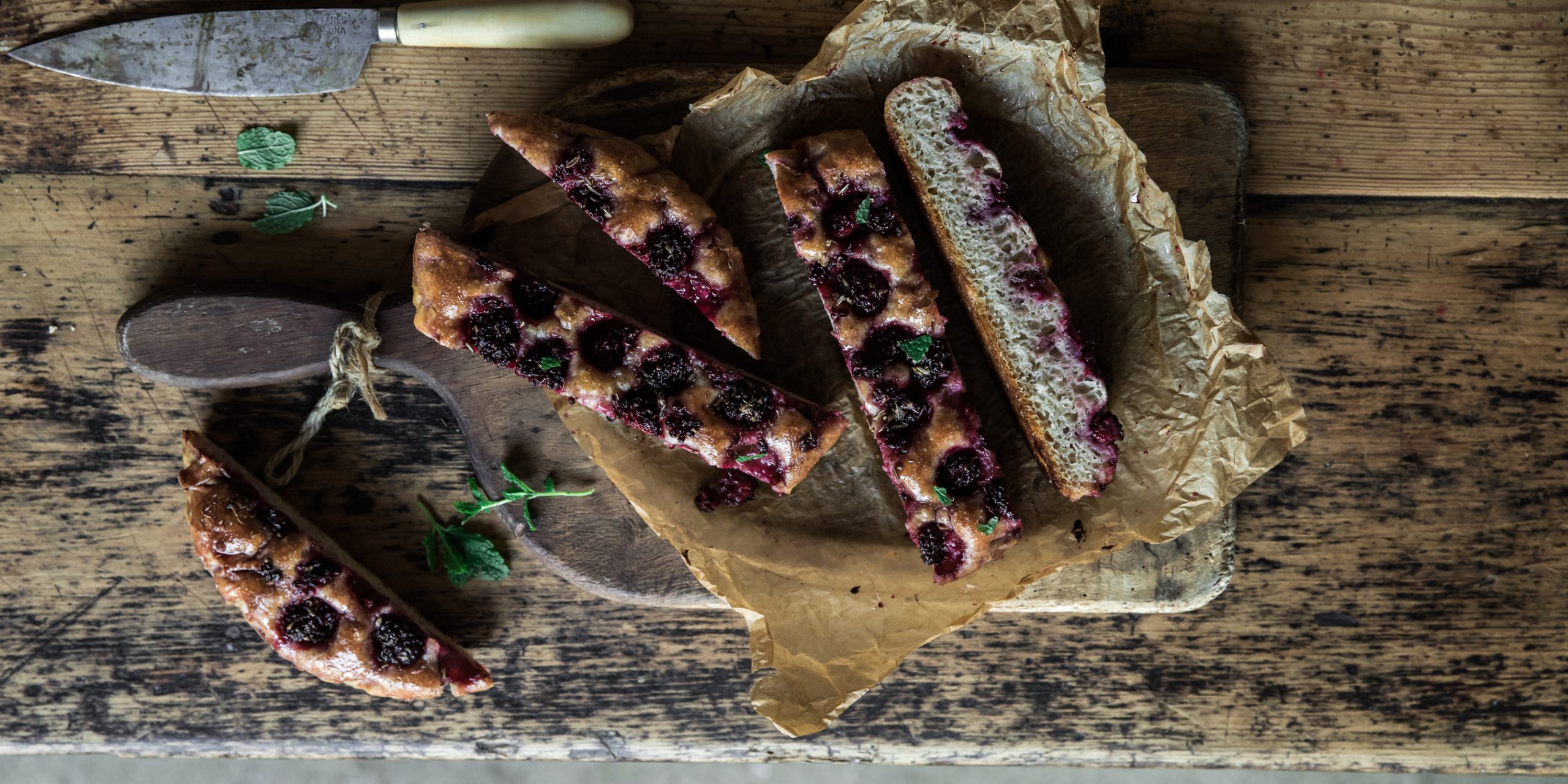 It is World Cancer Day on the 4th of February 2020
This is the first of two recipes we have been working on with Ryan Riley from Life Kitchen. Our second is a savoury Feta, Miso & Mushroom Sourdough Focaccia. They are simple sourdough focaccia recipes developed specifically for people living with cancer. Cancer can be a very difficult time and one of the little talked about side effects of treatment is the altered sense of taste that a lot of people experience.
This incredible collaboration, of both understanding flavour with Life Kitchen and Vanessa's understanding of the nutrition & digestibility of sourdough, aims to help people revive the joy of taste and flavour of their everyday staple - bread.
The recipe uses the principles of fermentation, making the bread more nourishing and easier to digest, and the 5 principles of Life Kitchen: umami, smell, stimulating the trigeminal nerve, texture and flavour layering - by building in ingredients with these different principles, the tastier a recipe will become. The Blackberry, Fennel & Pistachio Foccacia bread that we have developed together is beautifully tangy & sharp - awakening the tongues sour receptors - and enticingly aromatic with aniseedy, fennel notes. What a lot of people don't know about their sense of taste, is that around 80% of what we think we taste, is actually what we smell, this is why we've created this gorgeously scented and wonderfully tasty bread, to hopefully give people experiencing the side effects from cancer treatment, a more uplifting flavour and more powerful taste.
Nutrition & Digestibility
Rye
I have chosen to blend a white bread flour with rye flour. The fermentation process makes the Rye easier to digest which is important for anyone who might be struggling with digestive issues again as a result of treatment.  Rye is one of the most flavoursome flours you can use and one of the most nutritious grains you can include in your diet.
Blackberries
Berries are packed full of antioxidants.  There is a brilliant article here that explains more on antioxidants.
Equipment
Pestle and mortar
2 Round tins – ours were 22cm across and 4cm deep
Greaseproof paper
Large mixing bowl
Clean damp tea towel
Medium mixing bowl
Pastry brush
Wire rack
Tin Size
22cm round cake tin (4cm deep) OR 8 x 2 inch round cake pan (USA)
Suggested Starter
White
Status of Starter
bubbly, lively first-build starter
Hydration
73%
DDT
26°C (79°F)
---
Flours
The brand of flours used in this formula
For The Dough
325g water at 28C (plus an extra 25g water if needed, see method)
10ml mix of water with 5g of olive oil
FOR THE TOPPINGS
150g blackberries
olive oil for greasing the greaseproof paper
SERVING SUGGESTION (optional)
Handful of fresh mint leaves torn up
Baking Time
20-25 minutes
Bake At
200°C/180°C fan/400°F/gas mark 6
---
Tutorials
| Step | Timings |
| --- | --- |
| Refresh your sourdough starter. | Day 1 8am |
| Mix dough ingredients | Day 1 9pm |
| Leave to rest | Day 1 9.15pm |
| Prepare tins | Day 1 9.15pm |
| Add extra water if needed | Day 1 9.20pm |
| Divide dough into two | Day 1 9.30pm |
| Dimple the dough | Day 1 9.35pm |
| Cover & leave overnight (my kitchen was 22C) | Day 1 9.40pm |
| Preheat the oven to 200 C / 392 F | Day 2 8am |
| Make the topping | Day 2 8.30am |
| Add the toppings | Day 2 8.35am |
| Leave to sit for 20 mins | Day 2 8.40am |
| Bake for about 20 - 25 mins | Day 2 9am |
| Remove from oven cool on wire rack | Day 2 9.25am |
Guidance, tips & techniques
Method
If you are making sourdough for the first time and you do not have a starter you can buy one. Or you can start your own sourdough starter, or maybe even ask a sourdough baker to give you some of theirs.  We are usually pretty good at sharing and we usually like to give you a few tips with our starters.
The timings of this method are based on a normal working day. Although it might look challenging at first, it is actually easier than you think and involves about 15 -30 minutes work over two days.
Please note : if you use different flour brands than the ones in this recipe then the crumb structure may differ slightly. If the rye is more fibrous or should your white bread flour contain more than 12% protein then the crumb will be tighter than in our recipe. If this is the case then simply make a slight adjustment and in addition to the total water in the recipe, add more water to accommodate the differences. Try with 10 – 20 g more water next time as this will make the crumb structure more open. If your dough at any point feels too wet just leave it to sit for half an hour, go and make a cup of tea and allow the water to fully absorb.
8 am –  refresh your sourdough starter – tip use 20 C water
9 pm  – add the starter, flour, salt and 325g water and mix your dough. Leave covered for 15 minutes to rest.
9.15 pm  – grease and line two tins with greaseproof paper and drizzle olive oil across the paper
9.20 pm – if the dough seems a little dry add the extra 25g of water – do give the dough time to absorb the water slowly.
9.30 pm  – with a little oil on your hands divide the dough. Gently push each piece of dough to fit into a tin, dimple the dough with your fingertips. Sprinkle over the dough with a small 10ml drizzle of water & olive oil.
9.40 pm – cover the dough, accounting for the fact it will rise, and leave on the side or kitchen table until morning.
Day 2
8 am – preheat the oven to 200 C / 392 F
8.30 am – tip the fennel seeds into a pestle and mortar with the salt and lightly grind together, add in the butter and mix well together. Once the fennel seeds and the butter are nicely combined, tip in the blackberries and pistachios gently toss to coat. Tip – transfer blackberry, pistachio and butter mixture into a mixing bowl to gently combine if your pestle and mortar isn't large enough.
8.35 am – press the blackberry mixture lightly into the dough
8.40 am – leave the focaccia to sit for 20 minutes before baking
9 am  – drop the oven down to 180 C / 356 F then bake for about 20 – 25 minutes. Always check the bread before this time as everyone's oven is different
When the bread is browned on top but still retains its bounce, remove from the oven and brush the top with the blackberry cordial or maple syrup. Leave to cool on a wire rack before enjoying plentifully!
Tips & Storage:
The dough will have olive oil in it so we recommend storing it on something such as a plate with a paper bag around it so that you won't stain a cloth with oil.
Notes:
You could substitute blackberries with frozen blackcurrants.
We served ours with fresh mint torn up and sprinkled on top.