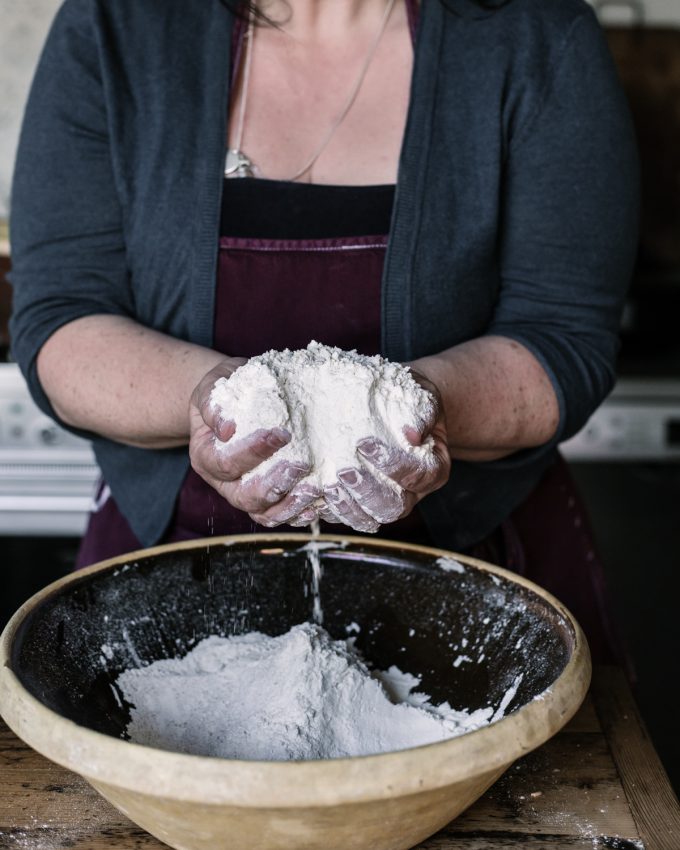 Flour
I love using local four, and our Botanical Blend flour is our favourite one to use.  You can buy it here, but each flour is unique to the terroir where the grain is grown, when it is harvested and how it is milled. They all give slightly different results and whilst some people find this frustrating, I love the differences; it is part of the challenged. In the UK, Italy, France, and the USA and I have stood in the fields and chatted to the farmers who grow the grain they mill into the flour I make the bread with at the School. I believe that this connection between farmers, baker and producer is integral to understanding your main ingredient and the key to making great bread, and I'd encourage everyone who makes sourdough to make that connection to the millers and farmers involved in growing and milling their flour whenever possible. There is a full list of all UK mills available on the Sourdough School website for readers to locate their local mill.
USA
www.centralmilling.com – American millers deeply passionate about flavour, the environment and their relationship with their growers. I use their organic artisan bakers craft (ABC) flour, which is milled from a carefully selected blend of organic wheat. We use ABC as out 80% ..  but there are some superb flours you can play with this range.
UK
www.flour.co.uk – Marriages is another superb supplier of organic bread flour. Highly recommended especially for blending. We use the Organic White roller milled in our higher hydration breads – anything above 80% hydration this is reliable for.
www.dovesfarm.co.uk – Doves Farm produce fantastic rye flour, it's the one I've used in recipes throughout this book. Their bread flour is also superb. We love the heritage grains and the rye. Some fabulous flavours and textures.
www.gilchesters.com – British-grown, organic flours, milled from heritage wheat varieties. The wholemeal flour has been used throughout this book, and the organic wholegrain is fantastically flavoursome and perhaps my favourite flour. I blend it into virtually every loaf I make. Andrew and Billie are great friends and have incredible milling and flour knowledge. This is our go-to for our leaven for the RETARDED method. It's lively and full of flavour.
www.priorsflour.co.uk – my local mill. Highly recommended. Local wheat milled in my local mill by amazing miller and friend Jonathan Cook.
ITALY 
www.mulinomarino.it – my favourite Italian mill. I've used them for over 7 years and their Organic type '00' is a lovely flour. A gorgeous family and such amazing farmers who are deeply connected to their land and community. We use the 00 Mulino marino as the 80% in our ambient classic. This is a video I made for a friend to tell them all about the flour ..  but I figured it was useful to add in on here anyway as it is full of useful information.
FRANCE
www.foricher.com – the French mill, which produces the superb Organic T65 flour. Ethical, passionate, 7th generation French miller. They are an amazing team of millers. We use the T45 as our main 80% in the classic. The Flour we use is CRC.  The video below tells you more about what this means.
I also highly recommend the Lammas Fayre heritage flours produced by archaeobotanist and heritage grain pioneer John Letts who also tutors at the School. These flours are milled from ancient cereal varieties, grown using traditional methods. Again I have used them throughout the formulas and they are available to buy from Bakery Bits Ltd. Don't forget you have a 10% discount on your first order.