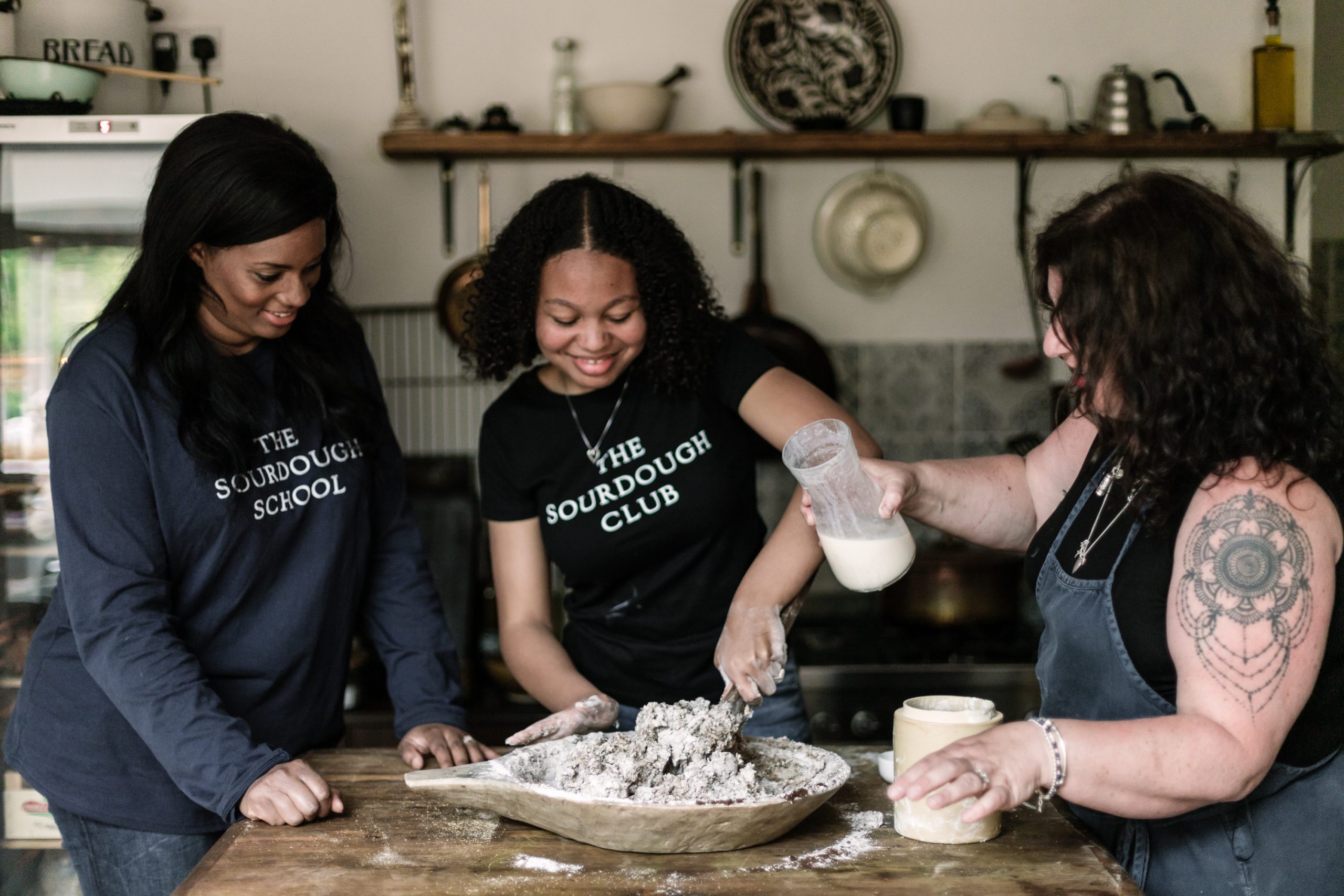 To Enrol on the Teacher Training Program you will need to speak to Vanessa Directly to Join.  The programme you are requires you to complete to following which can be done over 3 years.
Year 1
The diploma compromises of 2 online modules.
Bake for Health  Module- The practical baking module – applying the baking protocol to that way we bake and eat bread
Nutrition & Digestibility of bread Module – The lifestyle and medical evidence applied of The Bread Protocol that underpins our approach to baking
Year 2
1 x 5-day in-person Workshop ( we also except previous in person diplomas as this module) £1999
1 x 5-day Teacher Training Workshop £2999 please note that the two workshops have been scheduled together back-to-back  in 2023 to make travelling easier with one visit for 2 weeks to The Sourdough School.
Year 3 1:1 Training
Total Fees £12,000
Important information
We highly recommend that you read this information them before applying
Once you are enrolled on the programme you are able to book time with Vanessa in person.  When you hang out with Vanessa  you will learn about the inner workings of running corses and the secrets to success.  You will also be given the support and guidance needed to teach a baking as lifestyle medicine , and discover what it takes to create, deliver and enjoy teaching effective baking courses. The 1:1 tuition and consultations can be arranged with Vanessa Directly and paid for by invoice OR you can pay by per purchasing Packs here. 
You may not teach as a Sourdough School Qualified Teacher until you have graduated. Graduation is after 2 years on successful completion of the 2 modules Bake for heath  and Nutrition and Digestibility of Bread and a Teaching in Person Certificate from attending the teaching week in person.
Once graduated, and having taught for a year you may ( and ONLY if you need the application criteria,) apply for a Sourdough School Licence and open your own Sourdough School.  Please note full completion of the program is required before teaching is permitted. Please see terms and conditions.
Support year

+ an extra 12 months of continued support online attending live sessions on the diploma.
Who does this program appeal to?
Anyone who wants to teach confidently bread as lifestyle medicine. The timetable is designed for people who are already working to gain the skills and understanding part time.
Previous students have been bakers & healthcare professionals with an interest in teaching. It particularly suits people who  want a career change or want to teach bread making in their community.
The course is suitable for anyone with an interest in teaching baking the most nourishing bread possible, and who was to teach others. It will  suit people who are already bakers, or people who want a career change. It is also a superb way to add a complimentary income stream to an existing business or practice who already works in the healthcare sector.
We find this course particularly appeals to:
GP's including healthcare professionals who want to include lifestyle classes to their practices.
People who work in the mental health sector such as psychiatrists, psychologists, occupational health practitioners, mental health nurses and social workers.
Bakers who want to teach more than just bread making.
Cookery teachers, chefs, food industry professionals and community support workers.
What is the most important thing I need to understand?
The most important thing. YOU. One of the most amazing things I have discovered over many years of training teachers is that you bring with you a unique set of skills that are a part of the magical ingredient. It is the combination of your life experience and qualifications that will make you an amazing teacher; you will be able to apply your life skills to your teaching.
Multi disciplinary
The course is taught by both Vanessa Kimbell and a multi disciplinary in house team including our in House GP and Medical Director; Dr Alex Davison, our Director of Research; Dr. Miguel Mateas and Nutritionalist Venetia Mitchell, as well as guest lecturers from all over the world delivering lectures on their specialist topics.
This is Lifestyle Medicine – with the evidence that it works.
The syllabus covers topics such as Bread and the Impact on the Gut Microbiome, Bread and Balancing Blood Sugar,  Irritable Bowel Syndrome (IBS), Non-Coeliac Gluten Sensitivity (NCGS) Bread and Mental Health, Wheat Allergies, Bread and Obesity.
You will also learn extensively about the gut microbiome and how to bake to nourish both physical and mental health.  So when you are teaching your course, you will be able to combine techniques that apply both evidence of positive impact of our bread protocol to physical health, as well as  focusing on the person in front of you.  In this sense, the courses you will learn to teach are lifestyle medicine.
You will teach about eating to support the gut microbiome, and the course includes nutritional tutorials.
Whilst you will be teaching the impact of bread on the body, you will additionally teach that making bread is also about stress reduction and mental wellbeing.
Our style is about making bread part of everyday life, so we include lessons in shopping habits in the sourdough bread making schedule that encourages physical activity and exercise as part of the way we teach.
Our 'bake two, give one' philosophy is taught through all our courses to encourage healthy relationships with  family, friends and communities. It is a beautiful way to teach people to connect with themselves, to the people they love, and to build confidence and self esteem.
Limited places
There are very limited places on this course.  We keep numbers low so that we can give you the support you need to succeed.