We understand that the language used at The Sourdough School might be unfamiliar to some of you, so we've created this post to explain the terminology and structure of our courses.
Course: A program you enrol in to learn specific topics or skills. Our courses come in different formats, such as one-year certificate programs, workshops, and more.
Syllabus  A schedule that outlines the course content is typically presented as a timeline in a schedule. It specifies the lessons and modules you need to complete to finish the course. The syllabus outlines the overall structure, content, and objectives of a course. It provides a roadmap for students, detailing topics covered and the sequence of lessons and assessments. The syllabus is scheduled so you will see that we refer to this as your schedule, but this is done on a per-module baisis.  This also typically includes information about course policies, grading criteria, expectations, and any required resources, such as textbooks or materials.
Schedule:  All the lessons in the module ( or syllabus) see above
Certificate: Our certificate program lasts one year, and you will learn the theory of Baking as Lifestyle Medicine
The Diploma: the program is a two-year course. Both programs consist of weekly lessons and are divided into topics, with content stored in libraries.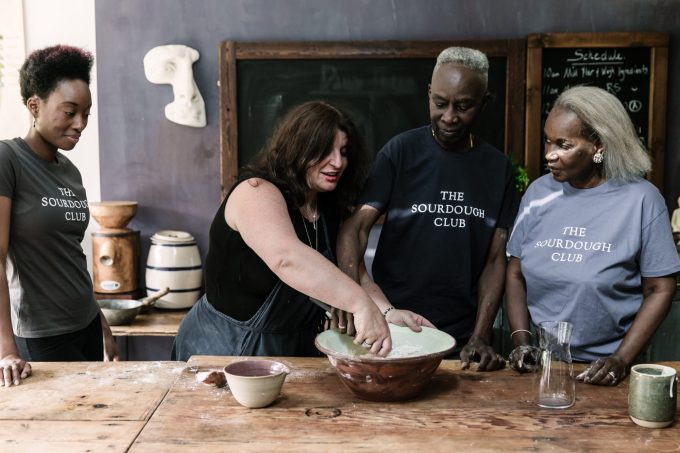 Workshops: Shorter courses with a syllabus set over a week, where lessons are scheduled by the hour. These can be online or in person and are typically 1 – 3 days.
Lessons: The various learning materials that make up a course, such as lectures, readings, recipes, podcasts, and research papers.
Libraries: Collections of learning materials organized by topic. Our school's libraries contain hundreds of hours of content for you to explore.
Modules: A module is a component or unit within a course that focuses on a specific topic or set of skills. It is made up of a series of lessons and activities that are designed to help students gain a deep understanding of the subject matter. Modules are organised in your schedule, building upon one another to create a cohesive learning experience. In several cases, our courses are made up of multiple modules, each addressing different aspects of the subject.
Online Learning: Our courses are designed for self-learning, with group discussion sessions (lives) to clarify and interact with your peers and instructors.
Flexibility: We understand that life can be unpredictable, so our courses are designed to accommodate your needs. If you fall behind, you can join and complete your qualification the following year.
In-Person Courses: All in-person courses also have online modules with a schedule of lessons, so be sure to check your schedule and note live dates and deadlines.
Lives: regular weekly sessions – usually module specific at regular times, and these can either be your course tutor or can be a guest lecturer for an open Q & A after a lecture.
Lectures:  Lectures are always pre-recorded.
Catch up:  A category on the website where you can watch or listen to recorded live sessions so you can catch up if you missed one.
Topics: Baking as Lifestyle Medicine is an interdisciplinary approach that combines the art of baking with the science of nutrition and clinical knowledge to promote overall health and well-being. The curriculum is divided into two main modules: the Practical Module and the Clinical Module. Each module covers a range of topics to provide a comprehensive understanding of how baking and nutrition can be integrated into a therapeutic lifestyle approach.
BALM Practical Module focuses on the hands-on aspects of baking, including techniques, methods, and recipes. Topics in this module  include topics such as:
Starters: Creating and maintaining sourdough starters for fermented breads.
Leavening: Understanding the process of fermentation and leavening agents.
Shaping: Techniques for shaping various types of bread, such as boules, batards, and baguettes.
Scoring: Learning how to score bread to control expansion and appearance during baking.
Baking Bread: Exploring different baking methods, temperatures, and times to achieve the desired crust and crumb.
BALM Clinical Module delves into the nutritional aspects and health benefits of baking as lifestyle medicine.
Examples of some of the topics covered in this module may include:
IBS and Non-Celiac Gluten Sensitivity: Exploring the role of diet and baking in managing these conditions.
Prescribing for Mental Health: Understanding the impact of nutrition on mental health and how baking can be a therapeutic activity.
The Gut Microbiome: Learning about the importance of gut health and the role of fermented foods in promoting a healthy gut microbiome.
Understanding the Mechanisms of Fermentation: Examining the science behind fermentation and its health benefits.
Gluten Sensitivity: Exploring gluten-free baking options and their role in managing gluten sensitivity.
Probiotics and Prebiotics: Learning about the benefits of these components in promoting gut health.
Blood Sugar Management: Understanding the role of diet, including baked goods, in maintaining healthy blood sugar levels.
We hope this explanation helps you better understand our school's language and course structure. Our goal is to support and encourage your learning, making it accessible and enjoyable for everyone. If you have any questions or concerns, please don't hesitate to reach out to our team.