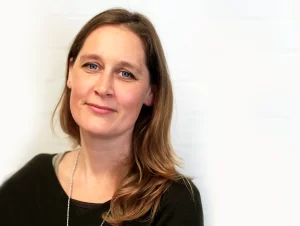 Viola Sampson BSc MCMA is a registered Microbiome Analyst and Director of The Microbiome Group.
Viola spent her early career as a published medical research scientist, and activist and science advisor to the campaign against GM crops. It was her own health issues that brought her to complementary medicine.
More than 15 years ago she trained as a craniosacral therapist, as that proved central to her own recovery, and has been a natural healthcare practitioner ever since, specialising in chronic fatigue conditions, trauma recovery and digestive health.
Since 2015 she has taught seminars on the microbiome for progressive healthcare practitioners.
In 2017 she set up her Microbiome Analysis practice – the first practitioner in the UK offering this kind of detailed microbiome analysis to guide treatment recommendations tailored to an individual's unique gut microbiome profile. Viola had been diving deep into the medical literature published on the microbiome for several years, studying with some pioneering practitioners around the world, as well as working with her own microbiome, healing life-long gut issues.
She began working with people who have Long Covid in 2020. Her reputation grew through word of mouth on reddit and Facebook and her waiting list grew to a 12 months wait, so she recently launched the Microbiome Group practice offering treatment to clients around the world, having invited three practitioners to join as Associates and trained them in her approach.
Viola Sampson is a guest lecturer on the topic of the gut microbiome at The Sourdough School for our Prescribing Baking as Lifestyle Medicine (BALM) Diploma course:
Understanding the role and key functions of the gut microbiome by Viola Sampson
You can follow Viola on Instagram @violasampson_microbiome and Facebook @microbiomeanalysis

Microbiome analysis and treatment is available in the UK, USA and Australia via themicrobiomegroup.com