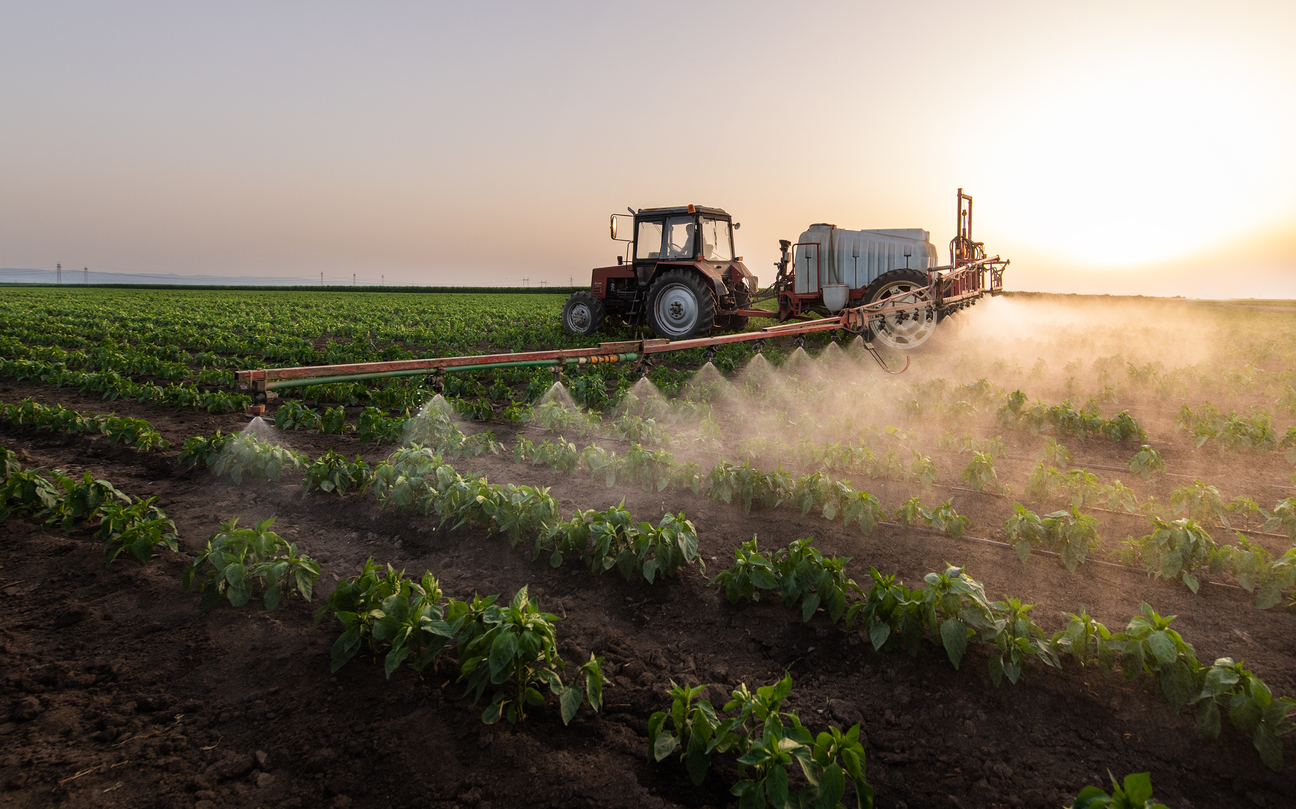 This feature gives you the context within which the Botanical Blend flour was developed.
To fully appreciate the radical approach of Botanical Blend flour, this feature examines the environmental effects of processed foods. When you consider that we use half of our liveable land for farming,  it's no surprise that food production contributes a third of the world's greenhouse gas emissions (GHGE).
One of the key things that underpin the BALM approach is empowering patients to support regenerative farming. This feature shows how activism is central to the BALM protocol and how, by changing the food that we eat and supporting regenerative farming, we can play a part in protecting the environment.
Medical professionals often only see the tip of the iceberg when looking at our basic ingredients. The BALM protocol goes beyond the basic ingredients and builds a conscious link between the food that we consume and the production of that food, from soil to spoon. BALM shows how it's possible to change not only what we eat but also change the ways in which what we eat is produced. Patients can themselves become part of the solution and are empowered to stand up and support regenerative farming practices contributing to long-term change.
On a radical scale, these changes are prospective but already we are seeing industrial producers changing their practices. Our Botanical Blend flour is produced by Hodmedod's who support organic and diverse farming. By encouraging patients to reconsider the food they eat, they gain the power to influence industrial production from their kitchens.
How much of that load is attributable to the foods we eat and the way we bake our bread?
Roughly 13.7 billion to 17.3 billion metric tons of CO2 equivalents are emitted through the food supply chain per year. According to the OECD-FAO Agricultural Outlook 2021–2030 report, direct emissions from agriculture account for nearly 12% of GHGE, but could be as high as 21% if we factor in land-use changes (as carbon reserves in soils and trees are lost with the deforestation for farms and ranches). 11% of net GHGE in the UK was attributable to agriculture in 2020.
However, a UN-backed study claims that more than a third of GHGE caused by human activity can be ascribed to the way we produce, process and package our food. In fact, that number might be as high as 35%.
Breaking this figure down further, we see that 57% of food production emissions relate to the manufacturing of animal-based food (including livestock feed), while plant-based foods contribute 29%. CO2 emissions from most plant-based foods are ten to fifty times lower than most animal-based products.
Wheat is the staple crop for an estimated 35% of the world population – up to 50% in some regions – and contributes about 20% of daily calories and proteins worldwide. The EU grows the most wheat, but China is close behind and also eats the most.
Regarding cereal grains and trends for the next decade, here's what we've compiled from the OECD-FAO Agricultural Outlook report and a study published in Frontiers last year (both papers published prior to the Russia–Ukraine war):
Looking forward:
–  The projected rise in wheat for food use is more than three times larger than the rise in feed use.
Consumption is expected to increase by 12% over the next decade.
Developing countries will account for almost 90% of the projected demand increase in cereals (as food use in developing countries will also exceed growth in feed use).
Global use of wheat for food is projected to go up, but to stay at about 70 per cent of total consumption (growth will be slower compared to the previous decade, as the world population increases at a more moderate pace).
Asia and Africa are major net importers, as consumption outpaces production there.
Wheat for human food will grow in Asia, where there is increasing demand for processed cereal-food products, such as pastries and noodles (which call for higher-quality and higher-protein wheat grown in the US, Canada and Australia).
The Middle East (Egypt, Algeria and the Islamic Republic of Iran) population will remain major consumers of wheat, with high levels of consumption – about 128kg of wheat per capita (twice the world average).
About wheat grown globally:
Average annual production of wheat in 2018 was 765 million tons.
This is expected to increase by 87 million tons (to 840 million tons) by 2030.
Cultivation is expected to rise between 48% and 65% in the biggest consumer regions (China, India, the EU, Russia, US).
The top exporters are the US, Brazil, Ukraine, Argentina and Russia – accounting for nearly 90% of total trade.
India is the third-largest producer and is expected to provide the largest share of the additional wheat supply (driven by yield improvements and area expansion in response to national policies to improve self-sufficiency in wheat).
More than 50% of the global production increase is projected to come from India, Russia and Ukraine (Russia, Ukraine, Ethiopia and India are projected to be the key producers of coarse grains like barley, oats, rye, sorghum and millets).
Wheat contributes 5% of emissions from the food sector – or rather one kilo of wheat produces 1.4 kilos of GHGE– low compared to beef, which emits 60 kilos of GHGE for the same weight. Rice is the largest contributor amongst plant-based foods at 12%, with sugarcane in third place at 2%. China, India and Indonesia are the highest emitters of plant-based food production, with China projected to be the largest producer of wheat by 2030.
The USDA reports that US farmers received 16 cents for every dollar spent on food in 2020 (which is actually up a cent from 2019 due to more food-at-home spending). In the UK, farmers get 8–10% of the gross value added to food. This low-profit margin for farmers means they don't necessarily have the capital to invest in their soils and in the ecology of their land.
Backed by the Global Challenges Research Fund, an unprecedented new Brazilian study examining data from five Household Budget Surveys to calculate three environmental indicators (GHGE, water footprint and ecological footprint) per 1,000 kcal of food and beverages purchased in metropolitan areas between 1987 and 2018. The food items were clustered into groups based on the way they were processed, known as the NOVA classification system. This was developed by the same authors, coding ultra-processed foods as NOVA 4 or G4 foods. Their findings demonstrated that there was a significant increase in the GHGE (21%), water footprint (22%) and ecological footprint (17%) of the Brazilian diet over thirty years. The contribution to GHGE from UPFs, however, was staggering: an increase of 245% over the study period. Water footprint in connection with G4 foods also rose by 233%, and the ecological footprint was up 183%. Although the trends were not always constant over the period (there was a decrease in all impacts in some years), the study does show that dietary patterns in Brazil are becoming potentially more harmful to human and planetary health, nonetheless.
Cultivation loads
Research has found that minimally processed foods and those associated with improved health – wholegrain cereals, fruits, vegetables, legumes, nuts and olive oil – have among the lowest environmental impacts. Tackling climate change starts with looking at how we grow our food and treat our soils.
1. Agrochemicals
For most foods, emissions from land use and from processes at the farm stage (methane, fertiliser and machinery) account for more than 80% of the footprint (there's a nice visual breakdown here).
2. A nitrogen fix
Non-organic wheat relies on large quantities of fertiliser to increase yields. A lot of energy is needed to make the fertiliser, and nitrous oxide gas is released when fertiliser degrades into the soil. In fact, new research indicates that the use of synthetic nitrogen fertiliser accounts for 2.4% of global emissions. Nitrogen is critical to plant growth and reproduction, and nitrogen-based fertilisers, as well as livestock manure (urine and dung), are the key sources of nitrous oxide emissions on farms.
When synthetic fertilisers are applied to soils, vital nutrients and bacteria that create organic material vital to plant life are killed off, destroying the functionality and structure of the soil. Farmers then become more reliant on these synthetics to feed the soils to keep the crops growing – and this becomes unsustainable.
A fascinating study put out by the University of Sheffield in 2017 measured the contribution of fertiliser and the environmental load in baking bread. By breaking down all factors that go into creating an 800g wholemeal loaf, researchers found that 43% of the GHGE associated with its production were attributed to the ammonium nitrate fertiliser used to grow the wheat – dwarfing all other processes used to cultivate the wheat, as well as harvesting, milling the flour and baking the bread. Of that percentage, two-thirds of emissions came from the actual production of fertiliser – a high-temperature process that uses a lot of natural gas. Interestingly, we learn that the equivalent of half a kilo of CO2 is released into the atmosphere for every loaf of bread produced in the UK.
Demand for fertiliser is growing with food security demand. In fact, global use of synthetic nitrogen fertilisers is set to increase by over 50% by 2050, according to the FAO, with comparable hikes in energy costs to manufacture them – causing challenges for farmers. In the US and Canada, soaring natural gas prices have sent the cost of nitrogen-based fertiliser (like ammonia) soaring from about $700 a tonne in August 2021 to more than $1,600 in May 2022.
3. Synthetic inputs are like antibiotics
Organic farming can reduce GHGE and is a more resilient approach in a changing climate than conventional farming. In one such recent study published in the Soil Science Society of America Journal, CO2, nitrous oxide (N2O) and methane gas (CH4) emissions were measured during a five-year crop rotation of winter wheat with leguminous crops (alfalfa and lentils) in an organic versus conventional system in the northern Great Plains. No chemicals were used in the organic system, and instead, sheep were used for weeding and soil fertility management. The conventional system managed weeds and pests with chemical sprays and nitrogen fertiliser to feed soils. Although the findings showed there were spikes in CO2 and N2O fluxes 'after tillage, planting, fertilisation, intense precipitation, and snowmelt' across both systems, the cumulative CO2 and N2O fluxes and total global warming potential were lower in the organic system.
Pesticides are chemical compounds that include herbicides, fungicides and disinfectants and are used to kill or ward off anything considered a pest – insects, weeds and even bacteria. But when applied, they contaminate our soils, water, grasses and other vegetation, making them toxic to birds, fish, beneficial insects (like bees) and other plants and organisms – including us. Haphazard use of chemicals might work for a few years, but like antibiotics, they kill off living organisms by stopping their growth and reproduction and can change bacteria so much that they stop working against them altogether.
Glyphosate
Glyphosate is the most widely and heavily applied pesticide in the world, on and off the farm. Globally, 9.5 million tons of the chemical has been sprayed on fields, which is enough to cover every acre of cultivated land in the world with almost half a pound of Roundup. The EFFAT called for an urgent ban on glyphosate in the 2022 renewal process, but the weedkiller is currently approved for use in the EU until December 2022 and in the UK until 2025, and farmers in Mexico have until 2024 to stop its use. Glyphosate is legal in over 100 countries where it's registered for use, including the US, despite being under EPA scrutiny for nearly forty years for its cancer-causing potential (add to that Parkinson's, Alzheimer's and autism). Last year, Monsanto owner Bayer AG announced it would stop selling glyphosate-based herbicides (like Roundup) to consumers by 2023 due to tens of thousands of lawsuits they've had to settle related to exposure and increased risk of non-Hodgkin lymphoma (41%, according to a 2019 study).
In the most recent Agricultural Chemical Use Survey on wheat put together by the USDA's National Agricultural Statistics Service (NASS), wheat farmers across eighteen states (representing 91% of total acreage across the nation) who took part in the questionnaire used eighty-seven different pesticide active ingredients on winter wheat acres, sixty-three different ingredients on spring wheat acres and fifty-two on durum wheat acres.
According to the National Association of Wheat Growers, 30% of the wheat acres in the US are sprayed with glyphosate – corn and soybean are the primary crops for application. Glyphosate is typically applied during fallow times (sans crop) to keep weeds at bay. More recently, it's been used as an aid in wet, cold northern regions after the kernels have matured, and up to one week before harvest. Termed 'desiccating', the matured crops are killed off right before the harvest, drying out the crop as much as two weeks sooner (when weather conditions might be more ideal), which helps produce more consistent yields for farmers. The practice began in Scotland in the eighties with wheat and barley, but is now used across the US Midwest and Canada.
As conservation tillage practices have picked up over the last few years – used in 67% of wheat acres as of 2017 per the USDA – so has glyphosate use, though not as bad as other commodity crops. The combination of organic farming with reduced or no-tillage is challenging, but it's proven to work in maintaining crop yields; farmers need to find ways to suppress their weeds, cease cover crops before planting their crops and stop viruses from spreading. But there is a better way, and that is with crop rotation – this not only throws pests for a loop but also keeps the same weeds from growing each year due to competition with the cash crop at different times during the year.
To read more, please check out our 2015 article on Glyphosate.
I was asked not long ago why I used organic flour to make sourdough. One of the key reasons that I am committed to using organic flour in sourdough is because the long-term implications of ingesting glyphosate in our bread are not yet understood, and yet glyphosate is sprayed on over two-thirds of UK wheat as a pre-harvest weedkiller and is also used to kill the crop, essentially to ripen it faster. The residue is in the grain we mill into flour, and it is in our bread.
Glyphosate is a broad-spectrum herbicide used extensively in farming, but you might recognise it as the spray used in public spaces such as parks and other urban areas to kill weeds. It is available for use in the domestic market. Monsanto brought it to market in the 1970s under the trade name Roundup. In 2000, Monsanto's last commercially relevant United States patent expired; therefore, glyphosate is now available from many different companies in a variety of strengths and formulations, and under many different brand names.
How does it work?
Glyphosate kills weeds by blocking the enzyme pathway enolpyruvylshikimate-3-phosphate synthase (EPSPS). The EPSPS enzyme comes at the start of the shikimic acid pathway that converts simple carbohydrate precursors derived from glycolysis and the pentose phosphate pathway to aromatic amino acids and many other important plant metabolites. Monsanto states that glyphosate has a history of forty years of safe use, that it is not toxic to mammals and that it decomposes fast in soil. Farmers who I have spoken to argue that glyphosate is an essential tool for weed management, and is better for the environment than other management practices such as using tillage to control weeds.
In 2013, Friends of the Earth Europe commissioned an independent laboratory in Germany to test urine samples from people in eighteen European countries for glyphosate. The results showed traces of glyphosate in an average of 44% of samples. However, this study also showed that in the UK, 70% of people had traces of this weedkiller in their urine.
What's more, Dr Robin Mesnage of the Department of Medical and Molecular Genetics at Kings College in London recently published a paper showing that the Roundup formulation is 1,000 times more toxic than glyphosate alone. He said, 'Glyphosate is everywhere throughout our food chain – in our food and water. The lack of data on toxicity of glyphosate is not proof of safety and these herbicides cannot be considered safe without proper testing. We know Roundup, the commercial name of glyphosate-based herbicides, contains many other chemicals, which, when mixed together, are 1,000 times more toxic than glyphosate on its own."
The alarming statistics
Worldwide usage of glyphosate has increased more than twenty-fold since 1990, according to the Center for Biological Diversity (CBD). The conservation advocacy group says this upsurge is largely due to the widespread adoption of genetically engineered 'herbicide tolerant' crops, particularly corn and soy, which can withstand an otherwise fatal dose of glyphosate. In 2013, nearly a third of UK cereals, wheat and barley, were sprayed with glyphosate – a total of just over one million hectares.
So what is being done?
Well, not much by the government, as far as I can work out. The Soil Association, however, is calling for a UK ban on the use of glyphosate on UK wheat as a pre-harvest weedkiller and also its use to kill the crop to ripen it faster. New figures analysed by the Soil Association from government data were released at a scientific briefing in London on 15 July 2015. This revealed that glyphosate use in UK farming has increased by a massive 400% in the last twenty years, and it's one of the three pesticides regularly found in routine testing of British bread – appearing in up to 30% of samples tested by the Defra committee on Pesticide Residues in Food (PRiF). The levels of glyphosate found in bread are well below the Maximum Residue Level (MRL) set by the EU.
The ban cannot come soon enough for me, because the truth is that no one can say with certainty if glyphosate is safe, as long-term human feeding trials have simply not been done. The evidence has been drawn mainly from studies of agricultural exposures. Other evidence, including from animal studies, led the World Health Organization's International Agency for Research on Cancer (IARC) to its 'probably carcinogenic' classification in March 2015. Professor Christopher Portier, one of the co-authors of the IARC report, said: 'Glyphosate is definitely genotoxic. There is no doubt in my mind.' Glyphosate has been linked to tumours in mice and rats – and there is also what the IARC classifies as 'mechanistic evidence', such as DNA damage to human cells from exposure to glyphosate. Research indicates that chronic, low-dose exposure to glyphosate can cause liver and kidney damage, and studies have pointed to glyphosate as a leading cause of the decline in monarch butterflies.
Back to the subject of bread
The late Peter Melchett, the Soil Association Policy Director, said: 'If glyphosate ends up in bread, it's impossible for people to avoid it unless they are eating organic. On the other hand, farmers could easily choose not to use glyphosate as a spray on wheat crops – just before they are harvested. This is why the Soil Association is calling for the immediate ending of the use of glyphosate sprays on wheat destined for use in bread.'
Many other countries have already responded to the IARC findings, including retailers in Switzerland and Germany who have removed glyphosate products from their shelves; France committed to stop selling it to consumers via self-service by 2018. German states are calling for an EU-wide ban. The Danish Working Environment Authority declared glyphosate a carcinogen. El Salvador and Sri Lanka have banned it (due not to the IARC report, but because of other studies linking it with kidney disease). The Colombian government has banned aerial spraying of the herbicide on coca crops. The Environmental Protection Agency of California (Cal/EPA) became the first US state to label glyphosate as 'known to cause cancer'.
A study examining the toxic effects of the herbicide glyphosate in humans can be read here. Researchers demonstrate how glyphosate exerts adverse effects on the gut microbiota and can be linked to a great number of the diseases and conditions that are prevalent in the modern industrialised world, including autism, obesity and IBD. The paper sheds light on the possible ill effects of herbicides, such as glyphosate, used in the cultivation of wheat and other agricultural crops. Consequently, it emphasises the use of organically sourced produce, like that used at The Sourdough School, as key to leading healthier and ethical lifestyles.