Learn to bake and teach BALM
The certification is the course for bakers to learn how to apply the BALM protocol to their professional baking practices. – Please note that you repeat the year, making it a two year Certificate.
£

29.99 / month for 24 months +

£

1,250.00 registration fee

£

29.99 / month +

£

1,250.00 registration fee

£

29.99 / month for 24 months +

£

999.00 registration fee
FAQs
What will I learn on a workshop?
Workshops are development days - bridge the gap between theory and practice.
This is about the BALM Experience: A Sensory Connection Workshop
Welcome to a unique exploration at BALM Training Academy. Having delved into the principles of Baking As Lifestyle Medicine (BALM) through a year of online learning, the workshops are an opportunity to connect on a deeper, more sensory level. Our connection workshop days are designed to bring you closer to the heart of BALM.
A Sensory Journey into BALM: This is not just a continuation of your online studies; this is an invitation to see, touch, taste, smell, and eat BALM. Engage with the workshop style that involves baking, creating, developing, discussing, photographing, and applying principles to recipes that are usually published. Get up close to how we produce course material, participate in the process, and become integral to the BALM experience.
Here's What Awaits You:
Understanding Your Ingredients: I love that you get to feel the texture of the flour, inhale the smells of the dough as it ferments and the bread as it bakes, and create blends that awaken your senses.
Mastering Sourdough: Handle wholegrain starters, control flavours, and savour the lunches and the baked sourdough.
The Art and Science of Bread: This is about observing variables affecting fermentation, experimenting with hydration, and appreciating nuances in creating something from scratch and of craftsmanship in shaping and scoring.
Holistic Health Approach: Explore the connection between bread and gut health through flavours, textures, and the beneficial effects on the body.
By immersing yourself in the workshop, you'll bridge the gap between theory and practice, between learning and living BALM. You'll leave not only with new skills and knowledge but with a profound connection to the art and science of baking as lifestyle medicine.
Is the certificate is the pre qualification to apply for the BALM teaching licence?
Yes. Our relationship with our graduates goes beyond just getting a qualification. The licences offer continued support to our graduates.The certificate is the pre qualification to apply for the BALM teaching licence.
How long Does The Certificate Course Take?
The BALM Certificate is a comprehensive 2 year programme teaching every practical aspect of Baking as Lifestyle Medicine. It is made up of a baking and task syllabus  with weekly lessons, lectures and baking tasks to build your skills and knowledge with regular weekly live guidance sessions.
.
Why do You have 3 options on the Certificate?
Online Only - Graduation is completed online
Online as above + a 5 day workshop in Tuscany.
Online as above with a 4 day workshop at The Sourdough School in the UK
What Can I expect from the Certificate Baking ?
The Certificate encompasses a new Teaching Module alongside the Baking Module.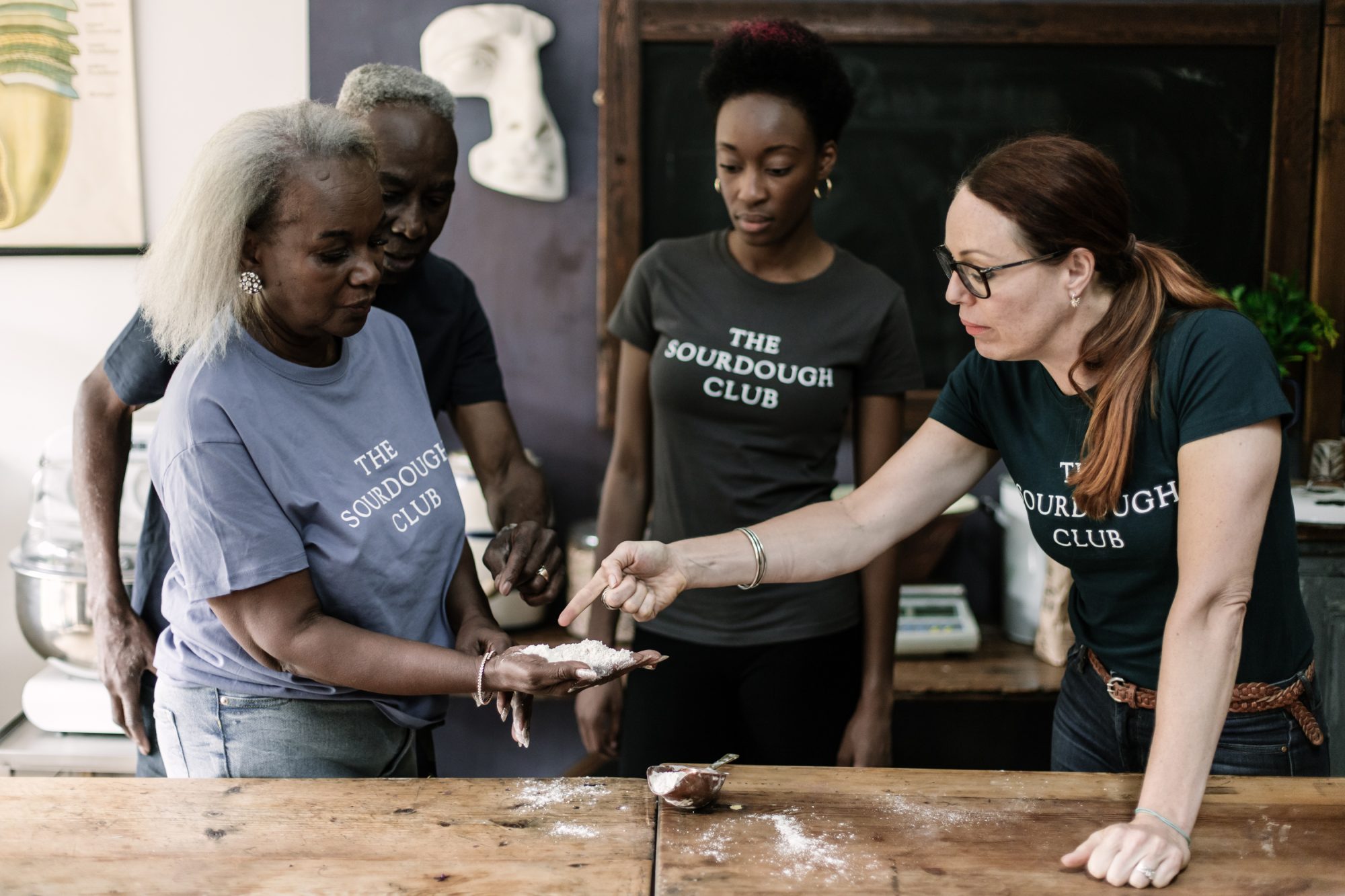 Skill Building: You'll bring your existing skills to the table and develop them further, learning to bake in a way that's both nourishing and joyful.
Enhancing Lives: The focus is on baking as a means to improve health and well-being. You'll learn how to share this knowledge with others, transforming simple ingredients into something that can genuinely enrich lives.
Structured Teaching Approach: If you decide to teach, we'll support you with a structured methodology that makes teaching a joy. You'll learn how to combine your knowledge, experience and passion in an engaging and effective way using bread.
Community Focus: As part of this program, you'll join a community of like-minded individuals. It's a network of support and collaboration where you can share ideas and learn from others who are equally committed to using baking as a force for good.
Empowerment Through Teaching: Graduates of the program have the opportunity to obtain the TEACHING BALM License, enabling them to inspire others and spread the joy of baking further.
A World-Changing Mission: This isn't just a course; it's a movement. By embracing the principles of BALM, you're joining a mission to make a positive impact on the world through the time-honoured craft of baking.
This Certificate in BALM is for those who see baking as more than a hobby. It's for those who want to share their knowledge, support others, and be part of a community that believes in the power of baking to change lives. Join us on this journey and be part of something truly special.
What recipes will I learn to bake on the certificate?
Simple 10-Minute Tin Loaves: These are likely to be basic recipes designed for ease and efficiency, suitable for beginners or those with limited time.
Heritage Grain Breads (like Emma Spelt Tin Loaves): Recipes using ancient or traditional grains, such as spelt, which are known for their distinct flavors and nutritional profiles.
Sourdough Pastries: This could include a variety of pastries made with sourdough starter, adding a unique flavor and texture compared to traditional yeast-based pastries.
Sweet Recipes (like Cakes): These are likely to explore the use of sourdough in sweet bakes, a less common but intriguing application of sourdough fermentation.
Creative Uses of Leftover Sourdough Starter: This category could include recipes for pancakes, waffles, and muffins, utilizing excess sourdough starter that might otherwise be discarded.
French-Style Ambient Techniques (e.g., Beetroot and Feta Bread): Recipes that involve ambient (room temperature) fermentation, possibly with unique ingredient combinations like beetroot and feta.
Retarded Techniques for Mid and High Hydration San Francisco-Style Overnight Loaves: Advanced sourdough bread techniques that involve longer fermentation times, typically resulting in a more complex flavor profile.
Baguettes: The classic French bread, likely with a sourdough twist.
Brioche: A rich, soft bread typically made with a high proportion of eggs and butter, adapted here for sourdough preparation.
Cinnamon Rolls: A sweet, rolled pastry, usually with a cinnamon filling, adapted for sourdough baking.
Pocket Breads: These could include varieties like pita or other flatbreads that puff up to create a pocket.
Panettone Course: A traditional Italian Christmas bread, rich in eggs, dried fruits, and citrus zest, adapted for sourdough baking.
Pizza Recipes: Diverse approaches to sourdough pizza crusts, likely exploring different toppings and styles.
Focaccias: An Italian flatbread, often topped with herbs and olive oil, made here with a sourdough base.
French Regional Breads: A category that could include a variety of breads specific to different regions of France, each with its unique sourdough interpretation.
These tested and photographed recipes represent a broad and diverse range of sourdough baking, from the simple to the complex, and from the savoury to the sweet. They offer students a comprehensive experience in sourdough baking, covering a wide spectrum of techniques and styles
Teaching BALM
Our relationship with our graduates goes beyond just getting a qualification. The licences offer continued support to our graduates.
The license to Teach BALM is a remarkable part of our systems change program. For two decades, our mission has been to enrich people's lives through the ancient art of baking. We've taught countless individuals to see baking as a form of lifestyle medicine, a means to enhance their nutrition, bolster their health, and find joy in the simplicity of making bread. This Teaching License is an extension of that mission, a tool of empowerment for our graduates to extend their influence and create a positive impact on their students' lives.
A comprehensive overview of the recipes, techniques and knowledge on the Certificate
You will learn to understand Every Aspect of Sourdough

Creation of Sourdough Starter
Understanding Yeast, Wild Yeast, and Lactic Acid Bacteria
Different Types of Sourdough Starters

Sourdough Fermentation

Mechanisms of Sourdough Fermentation
Impact on Dough and Bread Quality
Sourdough in Baked Goods: Bread, Pastries, Cakes, Pasta

Nutritional Aspects of Sourdough

Sourdough and Nutritional Value Enhancement
Nutritional Value of Wheat: Vitamins, Minerals, Polyphenols, Flavonoids
Grains Library: Rye, Barley, Oats, Heritage Grains, Spelt, Einkorn, Emmer, etc.

Sourdough and Health Modules

Sourdough in the Context of Overall Health
Mental Health and Bread
Gut Health: IBS, Inflammatory Bowel Disease
Blood Sugar Management and Health Impact
Bread and The Gut Microbiome
Gut Microbiome
Microbes and Their Metabolites
Gut Functionality

Sustainable Practices and History

Sustainable Farming Techniques
Agricultural Methods and Agrochemicals Impact
Wheat Breeding and History of Bread

Technical Skills

Milling Techniques and Flour Understanding
Behavior of Different Flours
Impact on Bread Taste and Texture

Course Structure and Engagement

52-Week Course: From Basic to High Hydration San Francisco Style Loaf
Weekly Lessons with 45-Min
A Huge Selection of Recipes, Tips, and Techniques

Integrative Workshops and Community Engagement

Four-Day Workshop at the Sourdough School
Community Sharing and Recipe Development
Option to Stay as an Alumni Member

Professional Application

Licensing for Professional Practice Using Course Materials
Opportunities for Teaching and Prescribing Bread as Clinical or Social Prescription

Final Assessment

Edible Exam: Application of BALM (Baking as Lifestyle Medicine) Principles
Creation and Sharing of a New Recipe

Continuous Learning and Innovation

Regular Tasks to Understand Sourdough in Health Context
Botanical Blends Flour Creation
Ongoing Support and Inspiration for Alumni
Understanding the BALM Protocol:
BALM (Baking As Lifestyle Medicine) Protocol at The Sourdough School
Six pillars of Lifestyle Medicine
Seven guiding principles at The Sourdough School and the Sourdough Club
Importance of methylation pathways in baking for bioavailable folate
Vanessa Kimbell's contributions to the bioavailability of prebiotics in sourdough
Holistic approach: physical, mental, and social health
Comprehensive Baking Skills and Knowledge:
Wide range of recipes: 10-minute tin loaves to heritage grain breads
Learning textures, flavours, and baking properties of grains
Sourdough pastries, sweet recipes, and creative uses of leftover starter
Specialised bread-making techniques, including French-style and retarded techniques
Diverse bread types: baguettes, brioche, cinnamon rolls, pocket breads, Panettone
Pizza recipes, focaccias, and French regional breads